A YEAR AGO.
7th October 1915
Page 2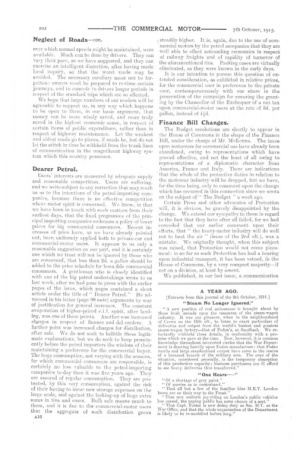 Page 3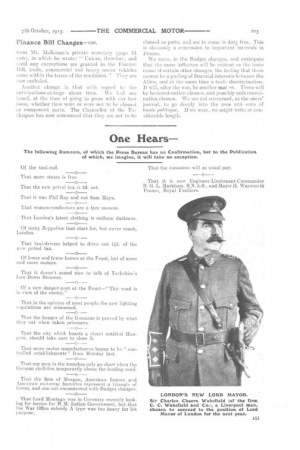 Page 2, 7th October 1915 —
A YEAR AGO.
Close
[Extracts from this journal of the 8th October, 1914.1
"Steam No Longer Ignored."
"A new position of real seriousness is brought about by these fresh inroads upon the resources of the steam-wagon industry. It was our pleasure, when in the neighbourhood of Crewe on the 18th ult., to listen to exact particulars of deliveries and output from the world's busiest and greatest steam-wagon factory—that of Foclen's, at Sandhach. We reluctantly withheld these details, in conformity with a promise which we gave at the time. Now, however, it is common knowledge throughout interested circles that the War Department is drawing heavily upon Foden manufacture : that Foden merits and large standardized output have come to the rescue of a harassed branch of the military arm. The crux of the situation, considered generally, is the temporary absorption of this productive capacity; business purchasers can ill afford to see heavy deliveries thus transferred."
"One Hears--"
"Of a shortage of grey paint." " Of queries as to contraband." " That all but a few of the familiar blue M.E.T. London buses are on their way to the Front." "That now uniform joy-riding on. London's public vehicles has ceased, the paying public has some chance of a seat." " That Capt. Foster is now doing duty as Sec. M.T. at the War Office, and that the whole organization of the Department is likely to be re-modelled before long."
from Mr. McKenna's private secretary (page 01 "ute), in which he wrote " Unless, therefore,. and until any exemptions are granted in the Finance Bill, trade, commercial and heavy motor vehicles come within the terms of the resolution." They are. now excluded.
Another change is that with regard to the anticipations-at-large about tires. 1\-re had not heard, at the time of going to press with our last issue, whether tires were or wore not to be classed as component parts. The Chancellor of the Exchequer has now announced that they are not to be classed as parts, and are to.come in duty free. This is obviously a concession to important interests in Franco. • We trace, in the. Budget changes, and anticipate that :the same influence will be eVident as the haSie cause of certain other changes, the feeling that there cannot be a pooling of financial interests between the Allies, and at the same time a trade discrimination. It will, after the war, be another mat er. There will be favoured-nation clauses, and possibly unfavourednation clauses. We are not concerned, as the users' journal, to go deeply into the pros and eons of haute politique.If we were, we might write at considerable length.