ONE OF THE AGRIMOTOR COMPETITORS AT THE SCOTTISH TRIALS.
7th October 1915
Page 18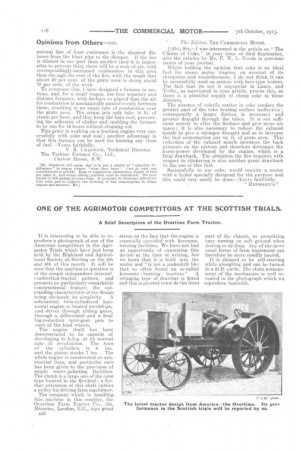 Page 18, 7th October 1915 —
ONE OF THE AGRIMOTOR COMPETITORS AT THE SCOTTISH TRIALS.
Close
A Brief Description of the Overtime Farm Tractor.
It is interesting to be able to reproduce a photograph of one of the American competitors in the Agrimotor Trials which have just been held by the Highland and Agricultural Society at Stirling on the 5th and 6th of this month. It will be seen that the machine in question is of the simple independent internalcombustion-tractor pattern, and presents no particularly remarkable constructional feature, the outstanding characteristic of the design being obviously its simplicity. A substantial twin-cylindered horizontal engine is located amidships, and drives through sliding gears, through a differential and a final big-reduction spur-gear pair to each of the hind wheels.
The engine itself has been demonstrated to be capable of developing 24 b.h.p. at its normal rate of revolutions. The bore of the cylinders is 6 ins. and the piston stroke 7 ins. The whole engine is constructed on substantial lines, and particular care has been given to the provision of ample water-jacketing facilities. The clutch is a large one of the cone type located in the flywheel ; a further extension of this shaft carries a pulley for driving farm machinery.
The company which is handling this machine in this country, the Overtime Farm Tractor Co., 124, Minories, London, E.C., lays great A52 stress on the fact that the engine is especially provided with keroseneburning facilities. We have not had an opportunity of examining this device at the time of writing, but we learn that it is built into the motor and " is not a makeshift like that so often found on so-called kerosene burning tractors." A swinging type of drawbar is fitted and this is pivoted towards the front
part of the chassis, so permitting easy turning on soft ground when discing or drilling. Any of the more usual forms of farm implement can therefore be more readily hauled.
It is claimed to be self-steering while ploughing and can be turned in a 25 ft. circle. The chain arrangement of the mechanism is well revealed in the photograph which we reproduce herewith.