A Satisfied Steam Wagon User.
7th November 1907
Page 16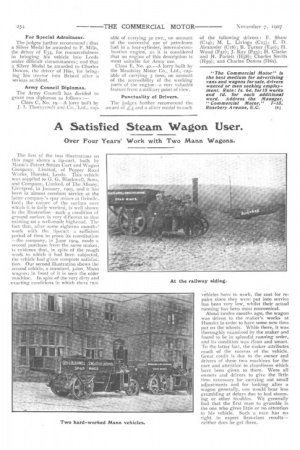 Page 16, 7th November 1907 —
A Satisfied Steam Wagon User.
Close
Over Four Years' Work with Two Mann Wagons.
The first of the two illustrations on this page shows a tip-cart, built by Mann's Patent Steam Cart and Wagon Company, Limited, of Pepper Road Works, Trunslet, Leeds. This vehicle was supplied to G. G. Blackwell, Sons, and Company, Limited, of The Albany, Liverpool, in January, 1903, and it has been in almost constant service at the latter company's spar mines at ford ; the nature of the surface over which it is daily worked, is well shown in the illustration—such a condition of ground surface is very different to that existing on a well-made highroad. The fact that, after some eighteen months' work with the tip-cart a sufficient period of time to prove its constitution —the company, in June 1904, made a second purchase from the same maker, is evidence that, in spite of the rough work to which it had been subjected, the vehicle had given complete satisfaction. Our second illustration shows the second vehicle, a standard, 5-ton, Mann wagon ; in front of it is seen the older machine. In spite of the very dirty and exacting conditions in which these two
vehicles have to work, the cost for repairs since they were put into service has been very low, whilst their actual running has been most economical.
About twelve months ago, the wagon was driven to the maker's works at Hunslet in order to have some new tires put on the wheels. While there, it was thoroughly examined by the maker and found to be in splendid running order, and its condition was clean and smart. To the latter fact, the maker attributes, much of the success of the vehicle. , Great credit is due to the owner and drivers of these two machines for the care and attention to cleanliness which have been given to them. Were all owners and drivers to give the little time necessary for carrying out small adjustments and for looking after a wagon generally, One would hear less grumbling at delays due to bad steaming or other troubles. We generally find that the first man to grumble is the one who gives little or no attention to his vehicle. Such a man has no right to expect first-class results— neither does he get them.