Paccar aims to cut queue by Charles Young • Paccar's
7th May 1998
Page 26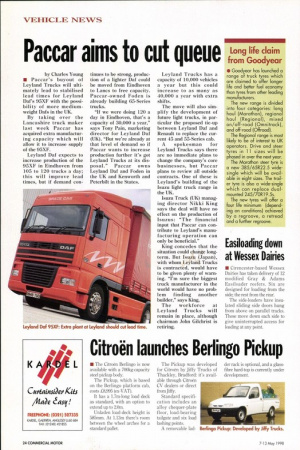 Page 26, 7th May 1998 —
Paccar aims to cut queue by Charles Young • Paccar's
Close
buyout of Leyland Trucks will ultimately lead to stabilised lead times for Leyland Daf's 95XF with the possibility of more mediumweight Dais in the UK.
By taking over the Lancashire truck maker last week Paccar has acquired extra manufacturing capacity which will allow it to increase supply of the 95XF.
Leyland Daf expects to increase production of the 95XF in Eindhoven from 105 to 120 trucks a day; this will improve lead times, but if demand con tinues to be strong, production of a lighter Daf could be moved from Eindhoven to Lancs to free capacity. Paccar-owned Foden is already building 65-Series trucks.
"If we were doing 120 a day in Eindhoven, that's a capacity of 30,000 a year," says Tony Pain, marketing director for Leyland Daf (UK). "But we're already at that level of demand so if Paccar wants to increase production further it's got Leyland Trucks at its disposal." Paccar owns Leyland Daf and Foden in the UK and Kenworth and Peterbilt in the States. Leyland Trucks has a capacity of 10,000 vehicles a year but this could increase to as many as 40,000 a year with extra shifts.
The move will also simplify the development of future light trucks, in particular the proposed tie-up between Leyland Daf and Renault to replace the current 45 and 55-Series cab.
A spokesman for Leyland Trucks says there are no immediate plans to change the company's core businesses, but Paccar plans to review all outside contracts. One of these is Leyland's building of the Isuzu light truck range in the UK.
Isuzu Truck (UK) managing director Nikki King says the deal will have no effect on the production of Isuzus: "The financial input that Paccar can contribute to Leyland's manufacturing operation can only be beneficial."
King concedes that the situation could change longterm. But Isuzu (Japan), with whom Leyland Trucks is contracted, would have to be given plenty of warning. "I'm sure the biggest truck manufacturer in the world would have no problem finding another builder," says King, The workforce at Leyland Trucks will remain in place, although chairman John Gilchrist is retiring.