Turner wins new licence
7th May 1992
Page 31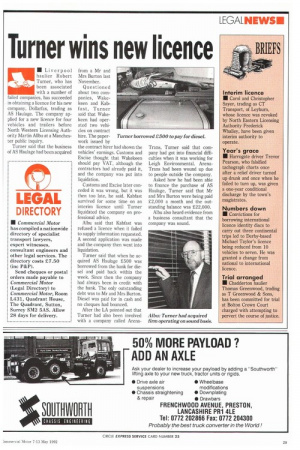 Page 31, 7th May 1992 —
Turner wins new licence
Close
• Liverpool haulier Robert Turner, who has been associated with a number of failed companies, has succeeded in obtaining a licence for his new company, Dollarfax, trading as AS Haulage. The company applied for a new licence for four vehicles and trailers before North Western Licensing Authority Martin Allbu at a Manchester public inquiry.
Turner said that the business of AS Haulage had been acquired from a Mr and Mrs Burton last November.
Questioned about two companies, Wakekeen and Kabfast, Turner said that Wakekeen had operated two vehicles on contract hire. The paperwork issued by the contract hirer had shown the vehicles' earnings. Customs and Excise thought that Wakekeen should pay VAT, although the contractors had already paid it, and the company was put into liquidation.
Customs and Excise later conceded it was wrong, but it was then too late, he said. Kabfast survived for some time on an interim licence until Turner liquidated the company on professional advice.
Albu said that Kabfast was refused a licence when it failed to supply information requested. A second application was made and the company then went into liquidation.
Turner said that when he acquired AS Haulage £500 was borrowed from the bank for diesel and paid back within the week. Since then the company had always been in credit with the bank. The only outstanding debt was to Mr and Mrs Burton. Diesel was paid for in cash and no cheques had bounced.
After the LA pointed out that Turner had also been involved with a company called Arena Trans, Turner said that company had got into financial difficulties when it was working for Leigh Environmental. ArenaTrans had been wound up due to people outside the company.
Asked how he had been able to finance the purchase of AS Haulage, Turner said that Mr and Mrs Burton were being paid £2,000 a month and the outstanding balance was £22,000.
Albu also heard evidence from a business consultant that the company was sound.