The best of body language
7th March 1996
Page 18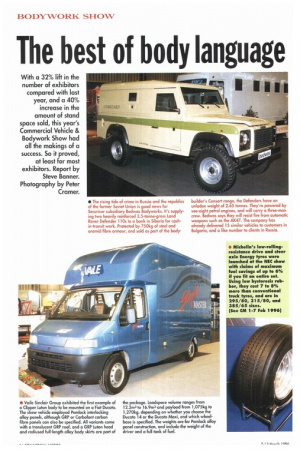 Page 19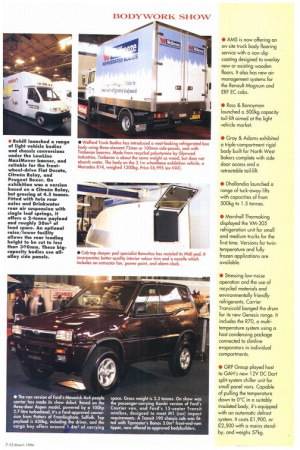 Page 20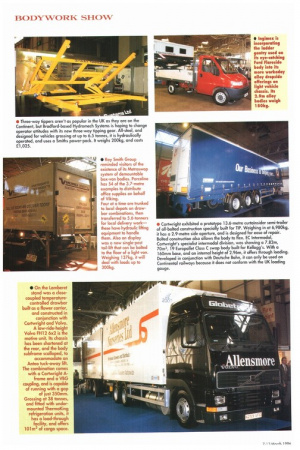 Page 18, 7th March 1996 —
The best of body language
Close
Keywords :
Car Body Styles
,
Road Transport
,
Vans
,
Car Classifications
,
Fiat Ducato
,
Panel Van
,
Automobile Body Style
,
Land Rover
,
Semi-trailer
,
Truck
,
Ac Cars
With a 32% lift in the number of exhibitors compared with last year, and a 40% increase in the amount of stand space sold, this year's Commercial Vehicle & Bodywork Show had all the makings of a success. So it proved, at least for most exhibitors. Report by Steve Banner. Photography by Peter Cramer.
• The rising tide of crime in Russia and the republics of the former Soviet Union is good news for Securicor subsidiary Bedwas Bodyworks. It's supplying two heavily reinforced 3.5-tonne-gross Land Rover Defender 110s to a bank in Siberia for cashin-transit work. Protected by 750kg of steel and aramid fibre armour, and sold as part of the body builder's Consort range, the Defenders have an unladen weight of 2.65 tonnes. They're powered by vee-eight petrol engines, and will carry a three-man crew. Bedwas says they will resist fire from automatic weapons such as the AK47. The company has already delivered 15 similar vehicles to customers in Bulgaria, and a like number to clients in Russia.
• Michelin's low-rollingresistance drive and steer axle Energy tyres were launched at the NEC show with claims of maximum fuel savings of up to 6% if you fit an entire set. Using low hysteresis rubber, they cost 7 to 8% more than conventional truck tyres, and are in 295/80, 315/80, and 385/65 sizes.
(See CM 1-7 Feb 1996) • Voile Sinclair Group exhibited the first example of a Clipper Luton body to be mounted on a Fiat Ducato. The show vehicle employed Pemlock interlocking alloy panels, although GRP or Carbofont carbon fibre panels can also be specified. All variants come with a translucent GRP roof, and a GRP Luton head and radiused full-length alloy body skirts are part of the package. Loadspace volume ranges from 12.3m3 to 16.9m3 and payload from 1,075kg to 1,270k9, depending on whether you choose the Ducato 14 or the Ducato Maxi, and which wheelbase is specified. The weights are for Pemlock alloy panel construction, and include the weight of the driver and a full tank of fuel,
• Rohill launched a range of light vehicle bodies and chassis conversions under the LowLine MaxiMover banner, and suitable for the frontwheel-drive Fiat Ducato, Citroen Relay, and Peupeot Boxer. On exhibition was a version based on a Citroen Relay, but grossing at 4.5 tonnes. Fitted with twin rear axles and Drinkwater rear air suspension with single leaf springs, it offers a 2-tonne payload and roughly 30m3 of load space. An optional raise/lower facility allows the rear loading height to be cut to less than 3nOmm. These bigcapacity bodies use allalloy side panels. • Welford Truck Bodies has introduced a neat-looking refrigerated box body using three-element 75mm or 100mm side-panels, and with Timberon bearers. Made from recycled polystyrene by Glynwed Industries, Timberon is about the same weight as wood, but does not absorb water. The body on the 3.1m wheelbase b exhibition vehicle, a Mercedes 814, weighed 1300kg. Price £6,995 (ex-VAT).
• Cab-top sleeper pod specialist Bonwitco has restyled its Midi pod. It incorporates better-quality interior velour trim and a nacelle which includes an extractor fan, power point, and alarm clock.
• The van version of Ford's Maverick 4x4 people carrier has mode its show debut. Based on the three-door Aspen model, powered by a 100hp 2.7-litre turbodiesel, it's a Ford-approved conversion from Potters of Framlingham, Suffolk. Top payload is 620kg, including the driver, and the cargo bay offers around 1.4rrd of carrying
space. Gross weight is 2.3 tonnes. On show was the passenger-carrying Kombi version of Ford's Courier van, and Ford's 15-seater Transit minibus, designed to meet M1 (car) impact requirements. A Transit 190 chassis cab was fitted with Tipmoster's Bonus 3.0m3 front-end-ram tipper, now offered to approved bodybuilders.
• AMS is now offering an on-site truck body flooring service with a non-slip coating designed to overlay new or existing wooden floors. It also has new air management systems for the Renault Magnum and ERF EC cabs.
• Ross & Bonnyman launched a 500kg capacity tail-lift aimed at the light vehicle market.
• Gray & Adams exhibited a triple-compartment rigid body built for North West Bakers complete with side door access and a retractable tail-lift.
• Dhollandia launched a range of tuck-away lifts with capacities of from 500kg to 1.5 tonnes.
• Marshall Thermoking displayed the VM-305 refrigeration unit for small and medium trucks for the first time. Versions for twintemperature and fully frozen applications are available.
• Stressing low-noise operation and the use of recycled materials and environmentally friendly refrigerants, Carrier Transicold banged the drum for its new Genesis range. It includes the R70, a multitemperature system using a host condensing package connected to slimline evaporators in individual compartments.
• GRP Group played host to GAH's new 12V DC Dart split-system chiller unit for small panel vans. Capable of pulling the temperature down to O'C in a suitably insulated body, it's equipped with an automatic defrost system. It costs 21,900, or 22,500 with a mains standby, and weighs 57kg.
• Ingimex is incorporating the ladder pantry used on its eye-catching Ford Fla reside body into its more workaday alloy dropside offerings on light vehicle chassis. Its 2.9m alloy bodies weigh 1 80kg.
• Three-way tippers aren't as popular in the UK as they are on the Continent, but Bradford-based Hydromech Systems is hoping to change operator attitudes with its new three-way tipping gear. All-steel, and designed for vehicles grossing at up to 6.5 tonnes, it is hydraulically operated, and uses a Smiths power-pack It weighs 200kg, and costs £1,025.
• Ray Smith Group reminded visitors of the existence of its Metroswop system of demountable box-van bodies. Parceline has 54 of the 3.7-metre examples to distribute office supplies on behalf of Viking.
Four at a time are trunked to local depots on drawbar combinations, then transferred to 5.6-tanners for local delivery work— these have hydraulic lifting equipment to handle them. Also on display was a new single-post tail-lift that can be bolted to the floor of a light van. Weighing 137kg, it will deal with loads up to 300kg.
• Cartwright exhibited a prototype 13.6-metre curtainsider semi-trailer of all-bolted construction specially built for TIP. Weighing in at 6,980kg, it has a 2.9-metre side aperture, and is designed for ease of repair. Bolted construction also allows the body to flex. EC Intermodal, Cartwright's specialist intermodal division, was showing a 7.82m, 70m3, 19 EuropaIlet Class C swap body built for Kellogg's. With a 160mm base, and an internal height of 2.96m, it offers through loading. Developed in conjunction with Deutsche Bohn, it can only be used on Continental railways because it does not conform with the UK loading gauge.
• On the Lamberet stand was a closecoupled temperaturecontrolled drawbar built as a flower carrier, and constructed in conjunction with Cartwright and Volvo. A low-ride-height Volvo FH12 6x2 is the motive unit. Its chassis has been shortened at the rear, and the body subframe scalloped, to accommodate an Anteo tuck-away lift. The combination comes with a Cartwright Aframe and a VBG coupling, and is capable of running with a gap of just 350mm. Grossing at 38 tonnes, and fitted with under mounted ThermoKing refrigeration units, it has a load-through facility, and offers 101m3 of cargo space.