Correspondence.
7th March 1907
Page 30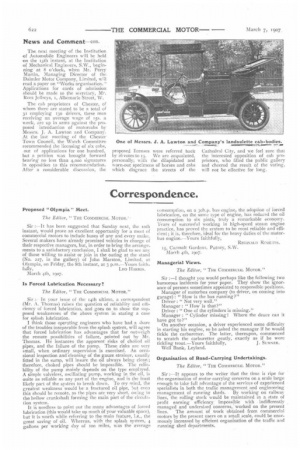 Page 31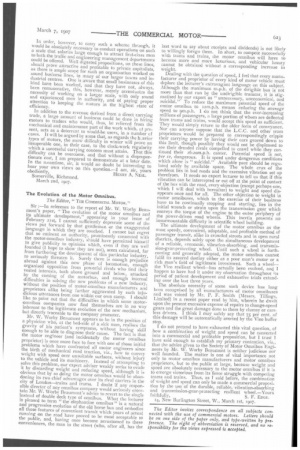 Page 30, 7th March 1907 —
Correspondence.
Close
Proposed "Olympia" Meet.
The Editor, " THE COMMERCIAL MOTOR.' '
Sir :--It has been suggested that Sunday next, the roth instant, would prove an excellent opportunity for a meet of commercial motors to include buses of any and every make. Several makers have already promised vehicles in charge. of their respective managers, but in order to bring the arrangements to a satisfactory conclusion, I shall be glad to see any of those willing to assist or join in the outing at the stand (No. 227, in the gallery) of John Marston, Limited. at Olympia, on Friday, the 8th instant, at 3 p.m.—Yours faith fully, LF.o ITARRis. March 4th, 1907.
Is Forced Lubrication Necessary?
The Editor, "THE COMMERCIAL MOTOR."
Sir :In your issue of the 14th ultimo, a correspondent (Mr. A. Thomas) raises ihe question of reliability and efficiency of forced lubrication, and goes on to show the supposed weaknesses of the above system in stating a case for splash lubrication.
I think those operating engineers who have had a share of the troubles inseparable from the splash system, will agree that forced lubrication has advantages that far outweigh the remote possibilities of failure, pointed out by Mr. Thomas. He instances the apparent risks of choked oil pipes, and the failure of the pump. These risks are very small, when ordinary supervision is exercised. An occasional inspection and cleaning of the gauze strainer, usually fitted in the sump, will insure the oil always being clean ; therefore, choked pipes should be impossible. 'cite reliability of the pump mainly depends on the type emolDyed. A simple valveless, oscillating pump, working in the on, is Quite as reliable as any part of the engine, and is the least likely part of the system to break down. To my mind, the greatest weakness would be' a fractured oil pipe, but even this should be remote, as the pipes are very short, owing to the hollow crankshaft forming the main part of the circulation system. It is needless to point out the many advantages of forced lubrication (this would take up much of your valuable space), hut it is worth while referring to the main feature, i.e., the great saving of oil. Whereas, with the splash system, 4 gallons per working day of too miles, was the average
consumptiou, on a 3011.p. bus engine, the adoption of forced lubrication, on the same type of engine, has reduced the oil consumption to six pints, truly a remarkable economy. Years of successful working in high-speed steam engine practice, has proved the system to be most reliable and•efficient; it is, therefore, ideal for the heavy duties of the motorbus engine.—Yours faithfully,
REGINALD RDIIELTS.
x5, Carmalt Gardens-, Putney, S.W.
March 4th, 1907.
Managerial Views.
The Editor, "THE COMMERCIAL MOTOR."
Sir :—I thought you would perhaps like the following two humorous incidents for your paper. They show the ignorance of persons sometimes appointed to responsible positions. Manager of motorbus company (to driver, on coming into garage): "how is the bus running?" Driver : " Not very well."
Manager : " Ilow is that?" Driver : " One of the cylinders is missing."
Manager : " Cylinder missing I Where the deuce can it have got to?" On another occasion, a driver experienced some difficulty in starting his engine, so he asked the manager if he would tickle the carburetter. The latter, thereupon, commenced to scratch the carburetter gently, exactly as if he were tickling trout. —Yours faithfully, J. Soo SF:R. Well Bank, Leyland.
Organisation of Road-Carrying Undertakings.
The Editor, " TIIE COMMERCIAL MOTOR."
Sir :—It appears to the writer that the time is ripe for the organisation of motor carrying concerns on a scale large enough to take full advantage of the services of experienced specialists in both the traffic management and engineering management of running sheds. By working on railway lines, the rolling stock would be maintained in a state of profit earning efficiency impossible with indifferently managed and undersized concerns, worked on the present lines. The amount of work obtained from commercial motors by the present users on a small scale, could be enormously increased by efficient organisation of the traffic and running shed departments. In order, however, to carry such a scheme thraugh, it would be absoiutely necessary to conduct operations on such a scale that salaries large enough to attract first-ciass men to both the traffic and engineering management departments could be offered. 11-ell digested propositions, on these lines, should prove attractive and profitable to private capitalists, as there is ample scope for such an organisation worked on sound business lines, in many of our larger towns and industrial centres. One is aware that small businesses of this kind have been worked, and that they have not, always, been remunerative, this, however, merely accentuates the necessity of working on a larger scale, with only sound and experienced men in authority, and of paying proper attention to keeping the motors in the highest state of efficiency.
In addition to the revenue derived from a direct carrying trade, a large amount of business could be done in hiring motors to traders who would, thus, be relieved from the mechanical and maintenance part of the work which, at present, acts as a deterrent to would-be users, in a number of eases. It will be argued by some that, as regards the hsavier types of motors, the snow difficulty in winter will prove an insuperable one, in their case, to the clock-work regularity
which a successful carrying concern must attain. That this difficulty can be overcome, and that without a dispropor tionate cost, I am prepared to demonstrate at a later date. In the meantime, sir, it would no doubt be interesting to hear your own views on this question.—I am, sir, yours obediently, HENRY A. NEAL, Somerville, Richmond.
March 2nd, 1907.
The Evolution of the Motor Omnibus, The Editor," THE COMMERCIAL MOTOR."
Sir :—In reference to the report of Mr. W. Worby Beau mont's paper, " The evolution of the motor omnibus and its ultimate development," appearing in your issue of February zist, I cannot sufficiently deprecate some of the views put forward by that gentleman or the exaggerated language in which they are couched. I cannot but regret that so eminent an authority, prominently connected with the motor-omnibus industry, should have permitted himself to give publicity to opinions which, even if they are weli
founded (I hope to show they are not), seem calculated, far from furthering the development of this particular industry, to seriously threaten it. Surely there is enough prejudice abroad against this new phase of locomotion, enough organised opposition from powerful rivals who find their vested interests, both above ground and below, attacked by the coming of the motorbus, and enough internal difficulties in solving the new problems of a new industry, without the position of motor-omnibus manufacturers and proprietors alike being further aggravated by such injudicious utterances from one within our own camp. I should like to point out that the difficulties in which some motoromnibus companies now find themselves are in no way inherent to the legitimate evolution of the new mechanism, but directly traceable to the company promoter.
Mr. W. Worby Beaumont appears to be in the position of a physician who, at the bed-side of a sick man, realises the gravity of his patient's symptoms, without having skill enough to be able to diagnose their cause. The fact is that the motor engineer (and incidentally the motor omnibus proprietor) is once more face to face with one of those initial problems which have confronted all motor engineers since the birth of mechanical road traction, viz., how to convey weight with speed over unsuitable surfaces, without injury to the vehicle and its machinery. Instead of attempting to solve this problem, our expert adviser weakly seeks to evade it by discarding weight and reducing speed, although it is obvious that by so doing the motor omnibus would be abandoning its two chief advantages over its rival carriers in the city of London—trains and trams. I doubt if any responsible director of any omnibus company would seriously entertain Mr. W. Worby Beaumont's advice to revert to the single instead of double deck type of omnibus. What the lecturer is pleased to term " the elephantine omnibus " is a natural and progressive evolution of the old horse bus and embodies all those features of convenient transit which years of actual running on the road have proved to be most acceptable to the public, and, having once become accustomed to these conveniences, the man in the street (who, after all, has the
last word to say about receipts and dividends) is not likely to willingly forego them. In short, to compete successfully with trams and trains, the motor omnibus will have to become more and more luxurious, and vehicular luxury cannot be obtained without a corresponding increase in weight. Dealing with the question of speed, I feel that every maimfacturer and proprietor of every kind of motor vehicle must deplore the lecturer's extravagant language on this subject. Although the maximum m.p.h. of the dirigible bus is not more than that run by the undirig,ible tramcar, it is stigmatised by our expert as " unnecessary, uneconomical, and suicidal." To reduce the maximum potential speed of the motor omnibus to izin.p.h. means reducing the average speed to 9m.p.h. I do not think that the ever-increasing millions of passengers, a large portion of whom are deflected from trams and trains, would accept this speed as sufficient. They would simply return to the older form of conveyance. Nor can anyone suppose that the L.C.C. and other tram proprietors would be prepared to correspondingly cripple their carrying power by having their cars geared down to Ibis limit, though possibly they would not be displeased to see their dreaded rivals compelled to crawl while they continued their 16-zom.p.h. canter. Potential speed is not, per se, dangerous. It is speed under dangerous conditions which alone is " suicidal." Available pace should be regulated solely by available space. The whole crux of the problem lies in bad roads and the excessive vibration set up therefrom. It needs no expert lecturer to tell us that if this vibration can be intercepted or cut off at the point of contact of the bus with the road, every objection (except perhaps one, which I will deal with hereafter) to weight and speed disappears once and for all. The other objection to weight in motor omnibuses, which in the exercise of their business have to be continually stopping and starting, lies in the initial wrench or strain upon the transmission gear which conveys the torque of the engine to the outer periphery of the power-driven road wheels. This inertia presents no insurmountable difficulty in scientific wheel building.
The ultimate development of the motor omnibus as the most speedy, convenient, adaptable, and profitable method of passenger transit, alike in crowded streets and in open rural districts, depends solely upon the simultaneous development of a reliable, economic, vibration-absorbing, and transmission-gear-protecting wheel. Until such a wheel is forthcoming and generally adopted, the motor omnibus cannot fulfil its assured destiny either as a poor man's motor or a rich man's field of legitimate investment. Such a wheel— the Vieo resilient wheel—has actually been evolved, and I happen to have had it under my observation throughout ;Ls period of patient development and exhaustive trials extending over the last three years. The absolute necessity of some such device has long been recognised by all manufacturers of motor omnibuses and was voiced by Mr. P. F. Smith (Messrs. Tillings, Limited) in a recent paper read by him, wherein he dwelt upon the present excessive expense of repairs to change-speed gears and the great damage done to them by clumsy or care• less drivers. I think I may safely say that 75 per cent. of this damage will be automatically averted by the \leo buffer stop. I do not pretend to have exhausted this vital question, of how a combination of weight and speed can be converted
into a commercial and profitable proposition, but I trust I
have said enough to establish my primary contention, viz., that the advice given to the Society of Motor Omnibus Engi neers by Mr. W. Worby Beaumont is neither judicious nor well founded. The matter is one of vital importance not only to motor omnibus manufacturers and motor omnibus proprietors, but to the public at large, because weight and speed are absolutely necessary to the motor omnibus if it is to emerge victorious from its fierce struggle with competing trams and trains. Thus, as I said before, the combination of weight and speed can only be made a commercial proposition by the use of the durable, reliable, vibration-absorbing and transmission-gear-protecting resilient wheel.—Yours faithfully, S. F. EDGE. el, New Burlington Street, W., March 1st, 1907.
The Editor invites correspondence on all subjects connected with the use of commercial motors. Letters should be on one side of the paper only, and type-written by preference. The right of abbreviation is reserved, and no responsibility for the views expressed is accepted.