Jesse Ellis and Co., Ltd.
7th March 1907
Page 15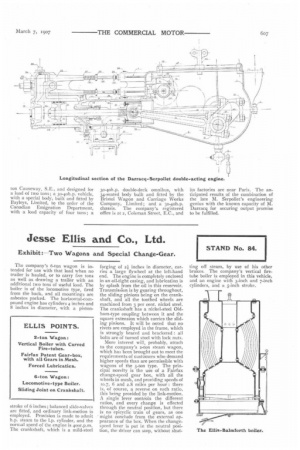 Page 15, 7th March 1907 —
Jesse Ellis and Co., Ltd.
Close
Exhibit:—Two Wagons and Special Change-Gear.
The company's 6-ton wagon is intended for use with that load when no trailer is hauled, or to carry five tons as well as drawing a trailer with an additional two tons of useful load. The boiler is of the locomotive type, fired from the back, and all mountings are asbestos packed. The horizontal-compound engine has cylinders 4 inches and 8 inches in diameter, with a piston stroke of 6 inches ; balanced slide-valves arc fitted, and ordinary link-motion is employed. Provision is made to admit h.p. steam to the I.p. cylinder, and the normal speed of the engine is 400r.p.m. The crankshaft, which is a mild-steel forging of 2+ inches in diameter, carries a large flywheel at the left-hand end. The engine is completely enclosed in an oil-tight casing, and lubrication is by splash from the oil in this reservoir. Transmission is by gearing throughout, the sliding pinions being on the crankshaft, and all the toothed wheels are machined from 3 per cent, nickel steel. The crankshaft has a nickel-steel Oldham-type coupling between it and the square extension which carries the sliding pinions. It will be noted that no rivets are employed in the frame, which is strongly braced and bracketed : all bolts are of turned steel with lock nuts.
More interest will, probably, attach to the company's 2-ton steam wagon, which has been brought out to meet the requirements of customers who demand higher speeds than are permissible with wagons of the 5-ton type. The principal novelty is the use of a Fairfax change-speed gear box, with all the wheels in mesh, and providing speeds of 10.7, 6 and 2.8 miles per hour : there is, of course, a reverse on each ratio, this being provided by the link-motion. A single lever controls the different ratios, and every change is effected through the neutral position, but there is no epicvclic train of gears, as one ' might conclude from the external appearance of the box. When the changespeed lever is put in the neutral position, the driver can stop, without shut
ting off steam, by use of his other brakes. The company's vertical firetube boiler is employed in this vehicle, and an engine with 3-inch and 7-inch cylinders, and a 5-inch stroke.