Ransomes, Sims & Jefferies, Ltd.
7th March 1907
Page 12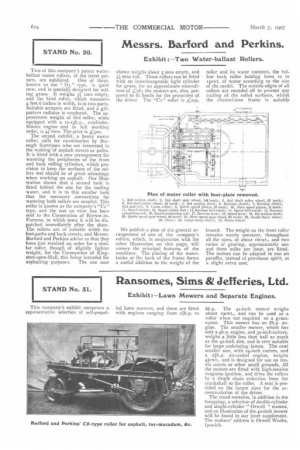 Page 12, 7th March 1907 —
Ransomes, Sims & Jefferies, Ltd.
Close
Exhibit:—Lawn Mowers and Separate Engines.
This company's exhibit comprises a representative selection of self-propel
led lawn mowers, and these are fitted with engines ranging from 21h.p. to
8h.p. The 42-inch mower weighs about lacwt., and can be used as a roller when not required as a grasscutter. This mower has an 8h.p. engine. The smaller mower, which has only a 4h.p. engine, and 3o-inch cutters, weighs a little less than half as much as the 42-inch size, and is very suitable for large undulating lawns. The next smaller size, with 24-inch cutters, and a 2,-3h.p. air-cooled engine, weighs 41cwt., and is designed for use on tennis courts or other small grounds. All the motors are fitted with high-tension magneto ignition, and drive the rollers by a single chain reduction from the crankshaft to the roller. A seat is provided on the larger sizes for the accommodation of the driver.
The stand contains, in addition to the foregoing, a selection of double-cylinder and single-cylinder " Orwell " motors, and an illustration of the 42-inch mower will be found in our inset supplement. The makers' address is Orwell Works, Ipswich.