OLYMPIA SHOW REPORT—Part I.
7th March 1907
Page 11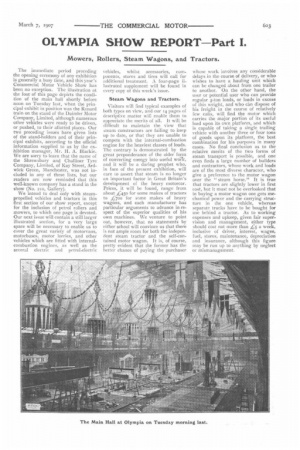 Page 11, 7th March 1907 —
OLYMPIA SHOW REPORT—Part I.
Close
Mowers, Rollers, Steam Wagons, and Tractors.
The immediate period preceding the opening ceremony of any exhibition is generally a busy time, and this year's Commercial Motor Vehicle Show has been no exception. The illustration at the foot of this page depicts the condition of the main hall shortly before noon on Tuesday last, when the principal exhibit in position was the Renard train on the stand of the Daimler Motor Company, Limited, although numerous other vehicles were ready to be driven, or pushed, to their allotted places. Our two preceding issues have given lists of the stand-holders and of their principal exhibits, according to the official information supplied to us by the exhibition manager, Mr. H. A. Blackie. We are sorry to learn that the name of the Shrewsbury and Challiner Tyre Company, Limited, of Kay Street, Ardwick Green, Manchester, was not included in any of these lists, but our readers are now reminded that this well-known company has a stand in the show (No. 210, Gallery).
We intend to deal only with steampropelled vehicles and tractors in this first section of our show report, except for the inclusion of petrol rollers and mowers, to which one page is devoted. Our next issue will contain a still larger illustrated section, for a very large space will be necessary to enable us to cover the great variety of motorvans, motorbuses, motor lorries, and other vehicles which are fitted with internalcombustion engines, as well as the several electric and petrol-electric vehicles, whilst accessories, components, stores and tires will call for additional treatment. A four-page illustrated supplement will be found in every copy of this week's issue.
Steam Wagons and Tractors.
Visitors will find typical examples of both types on view, and our 14 pages of descriptive matter will enable them to appreciate the merits of all. It will be difficult to maintain the view that steam constructors are failing to keep up to date, or that they are unable to compete with the internal-combustion engine for the heaviest classes of loads. The contrary is demonstrated by the great preponderance of the older form of converting energy into useful wok, and it will be a daring prophet who, in face of the present exhibition, will care to assert that steam is no longer an important factor in Great Britain's development of the heavy motorcar. Prices, it will be found, range from about ..4,450 for sonic makes of tractors to .4:7oo for some makes of heavy wagons, and each manufacturer has particular arguments to advance in respect of the superior qualities of his own machines. We venture to point out, however, that no statements by either school will convince us that there is not ample room for both the independent steam tractor and the self-contained motor wagon. It is, of course, pretty evident that the former has the better chance of paying the purchaser
whose work involves any considerable delays in the course of delivery, or who wishes to have a hauling unit which can be changed .about from one trailer to another. On the other hand, the user or potential user who can provide regular 5-ton loads, or loads in excess of this weight, and who 6n dispose of his freight in the Worse of relatively few calls, will find the motor which carries the major portion of its useful load upon its own platform, and which is capable of taking a single trailing vehicle with another three or four tons of goods upon its platform, the best combination for his purposes in many cases, No final conclusion as to the relative merits of the two forms of steam transport is possible, and one even finds a large number of builders and contractors, whose work and loads are of the most diverse character, who give a preference to the motor wagon over the " steam horse." It is true that tractors are slightly lower in first cost, but it must not be overlooked that in buying a motor wagon one gets mechanical power and the carrying structure in the one vehicle, whereas separate trucks have to be bought for use behind a tractor. As to working expenses and upkeep, given fair supervision and management, either type should cost not more than .4-5 a week, inclusive of driver, interest, wages, fuel, stores, maintenance, depreciation and insurance, although this figure may be run up to anything by neglect or mismanagement.