A Motor Cable Ploughing Set in the East,
7th July 1925
Page 34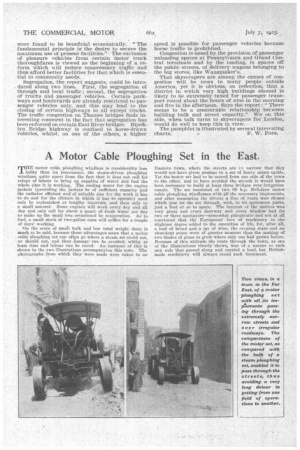 Page 34, 7th July 1925 —
A Motor Cable Ploughing Set in the East,
Close
'TIRE motor cable ploughiiv;. windlass is considerably less bulky than its forerunner, the steam-driven ploughing windlass, quite apart from the fact that it does not ca. for relays of labour to bring up supplies of water and fuel the whole time it is working. The cooling water for the engine jackets (providing the jackets be of sufficient capacity and the radintor efficient and of suitable size for the work it has to -do and for the climate in which it has to operate) need only be replenished at lengthy intervals, and then only to a small amount. Some engines will work every day and all day and only call for about a quart of fresh water per day to make up the small loss occasioned by evaporation. As to fuel, a small stock of two-gallon MIS will suffice for a couple of days'•working.
On the score of small bulk and low total weight there is much to be said, because those advantages mean that a motor cable ploughing set can often go where a steam set could not, or should not, and thus damage ' can 'be avoided, whilst at least time and labour can be saved. An instance of this is shown in the two illustrations accompanying this note. The photographs from which they were made were taken in an
Eastern town, where the streets are r narrow that they would not have given passage to a set of heavy steani tackle. Yet the motor set had to be moved.from one side of the town to the other, and to have avoided the streets it -would have been -nedessary to build at least three bridges over irrigation canals. The set consisted of two 60 h.p. :ldeLaren motor cable ploug,hing windlasses with all the necessary implements, and after measuring the streets a line of route was chosen which just let the set through, with, in its narrowest parts, just a foot or so to spare. The interest of the natives was very great and every doorway and every window had its two or three spectators—somewhat phlegmatic and not at all convinced that the EurOpeans' love of machinery in the Slightest degree added to the amenities of life, for, after all, a loaf of bread and a jar of wine, the evening stars and an abundant peace were of greater moment than the making of two blades of gram to grow where only one had grown before. Because of this attitude the route through the town, as one of the illustrations clearly 'shows, was of a nature to raek any axle that passed along and carried a load, but Britishmade machinery will always stand such treatment.