SMART UNIFORMS FOR DRIVERS.
7th July 1925
Page 14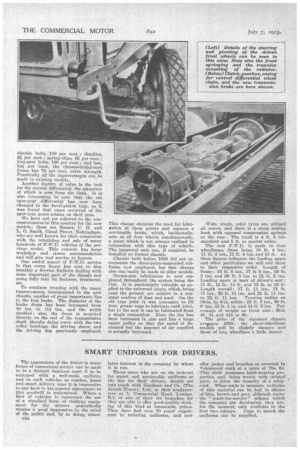 Page 14, 7th July 1925 —
SMART UNIFORMS FOR DRIVERS.
Close
The appearance of the driver in many forms of commercial service can be made to be a distinct business asset if he be equipped with a well-made uniform, and on such vehicles as coaches, buses and smart delivery vans it is imperative to pay heed to his general appearance so that goodwill is maintained. Where a fleet of vehicles is concerned the use of a standard form of clothing equipment for the drivers undoubtedly creates a good impression in the mind of the public and, by so doing, stimu c24 lates interest in the company by whom it is run.
Those users who are on the look-out for smart cud serviceable uniforms or the like for their drivers, should get into touch with Gardiner and Co. (The Scotch House), Ltd.; at their headquarters at 1, Commercial Road, London, E.1, or any of their six branches, for they are able to offer good-quality clothing of this kind at reasonable prices. They have had over 70 years' experience in tailoring uniforms, and now
offer jacket and breeches or overcoat in Velourcord cloth at a price of 79s. 64. This cloth possesses hard-wearing properties, and, being woven with twisted yarn, is given the tenacity of a whipcord. When made to measure, uniforms of this material can be had in shades of blue, brown and grey, although .under the " ready-for-service " scheme which the company are developing, they are, for the moment, only available in the
first two colours. Caps to match the uniforms can be supplied.