HERCULES INTRODUCES TWOCYLINDERED ENGINES.
7th January 1938
Page 6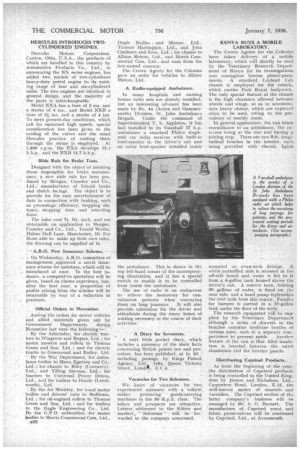 Page 6, 7th January 1938 —
HERCULES INTRODUCES TWOCYLINDERED ENGINES.
Close
Hercules Motors Corporation.
Canton, Ohio, U.S.A., the products of which are handled in this country by Automotive Products Co., Ltd., in announcing the NX series engines, has added two models of two-cyllndered heavy-duty petrol engine to its existing range of four and six-cylindered units. The two engines are identical in general design, and the majority of the parts is interchangeable.
Model NXA has a bore of 3 ins, and a stroke of 4 ins., and Model NXB bore of 31 ins, and a stroke of 4 ins. To meet present-day conditions, which call for sustained high speeds; special consideration has been given to the cooling of the valves and the usual Hercules practice of cooling them through the .stems is employed. At 1,800 r.p.m. the NXA develops 12.i b.h.p., and the NXB 14.7 b.h.p.
Slide Rule for Brake Tests.
Designed with the object of assisting those -responaible for brake maintenance, a new slide rule has been produced 'by. Morgan, Crossley and Co,,, Ltd."; manufacturer of Tenoid brake and clutch facings. The object is to provide for the easy ascertainment of data in connection with braking, such as percentage efficiency. stopping distance, stopping time and retarding force.
. The rules cast 7s. 6d. each, and are obtainable on application to Morgan, Crossley and Co., Ltd., Tenoid Works, Hulme"Hall Lane, Manchester, 10. For those able to make up their own rules, the drawing can be supplied at Is, • t A.R.O. New Insurance Scheme.
! On Wednesday, A.R.O. committee of management ,approved a novel insurance scheme for.n-tembers, which will be introduced at once. In the first instance, a competitive quotation will be given, based on claims experience, but; after the first year, a proporticin of profits arising from the scheme will be returnable by way of a reduction in premium.
Official Orders in November.
Among the orders for motor vehicles and allied materials given out by Government Departments during November last were the following
, By the Admiralty,for electric tractors to ,Wingrove and RogerS, Ltd. ; for motor mowers and rollers to Thomas Green and Son, Ltd. ; and for electric trucks to Greenwood and Batley, Ltd.
By the War Department, for ambulance bodies to Mann Egerton and Co., Ltd. ; for chassis 'to Riley (Coventry). Ltd., and Tilling Stevens, Ltd.; for tractors to Universal Power Drives, Ltd., arid for trailers to Hands (Letch worth), Ltd. • By the Air Ministry, for wood motor bodies and drivers' cabs to Mulliners, Ltd. ; for oil-engined rollers to Thomas Green and Son, Ltd. ; and for trailers to the Eagle Engineering Co., .Ltd. By the G.P.O. authorities, for motor bodies to Morris Commercial Cars. Ltd., B22 Duple Bodies.. and Motors, Ltd., Thomas Harrington, Ltd., and John Chalmers and Sons, Ltd.; for chassis to Albion Motors, Ltd., and Manes Commercial Cars, Ltd., and vans from the last-named concern.
The Crown Agents for the Colonies gave an .order for 'vehicles to Albion Motors, La
A Radio-equipped Ambulance.
In many hospitals and nursing homes radio sets are already installed, but an interesting advance has been made by No. 44 (Acton and Hammersmith) Division, St. John Ambulance Brigade. Under the command of Superintendent T. S. Appleton, it has had installed in its Vauxhall 27 h.p. ambulance a standard Philco single. unit car radio receiver with built-in loud-speaker in the driver's cab and an extra loud-speaker installed inside the ambulance. This as shown in tha top left-hand corner of the accompanying illustration, and it has a special switch to enable it to be controlled from inside the ambulance.
The use of radio is an endeavour to relieve the monotony for convalescent patients when conveying them on long journeys. It will also provide relaxation for the driver and attendants during the many hours of waiting necessary in the course of their activities.
A Diary for Inventors.
A neat little pocket diary, which includes a summary of the main facts concerning British patent law and procedure, has been published, at la. 9d., including postage, by Kings Patent Agency, Ltd. 146a, Queen Victoria Street, Londcili, E.C.4.
Vacancies for Two Salesmen. , . We know of vacancies for two. experienced salesmen with a vehicle. maker producing goods-carrying machines in the 30 th.p.h: class. The salary and prospects are attractive. Letters addressed to the Editor and marked, " Salesman-" will be forwarded to the company concerned.
• KENYA. BUYS A MOBILE
LABORATORY: The Crown Agents for the ,Colonies have taken delivery of a mobile laboratory; which will shortly be used by the 'Veterinary Research Department of Kenya for its investigations into contagious bovine pleura-pneumonia. A standard Leyland Cub chassis is employed for the vehicle, which carries Park Royal bodywork. The only special feature of the chassis is the high clearance allowed between wheels and Wings, so as to accommodate heavy chains, which are expected often to be used, owing to the prevalence of muddy roads.
In general appearance, the van bears resemblance to an ambulance, the entrance being at the rear and having a folding step. There are two 6-ft. longitudinal benches in the interior, each being provided with electric lights
mounted on swan-neck fittings. A white enamelled sink, is recessed in the off-side bench and water is fed to it from a 4-gallontank .housed above •tie driver's cab. A reserve tank, holding 20 gallons of water, is fixed on the near side, and a hand pump replenishes the' rooftank from this source. Parailia for burners is carried in a_ 10-gallon tank under the floor of the body: •
The research equipment will be sup. plied by the Veterinary Department although a series of _drawers in the benches contains medicine bottles of various Sizes, each in a separate compartment to prevent rattle. Another feature of the van is. that Alto! insulation is inserted between the onter aluminium and the interior .panels.
Distributing Cuprinol Products..
As from the beginning of the .year, the distribution of Cuprinol products is being controlled in the United Kingdom by Jenson and Nicholson, Ltd., Carpenters Road, London, E.15, the well-known maker of enamels and Varnishes. The Cuprinol section of tha latter company's business will be managed by Mr. S. C. Barnett. The manufacture of Cuprinol wood and fabric preservatives will _be continued by Cuprinol, Ltd., at Avonmouth..