Rates Officers' Power Must Be Limited
7th January 1938
Page 30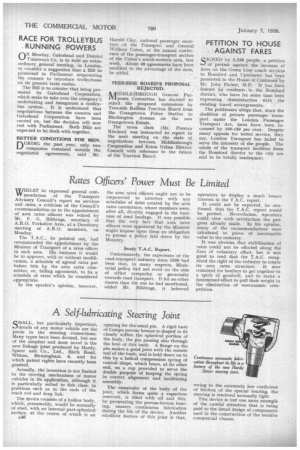 Page 30, 7th January 1938 —
Rates Officers' Power Must Be Limited
Close
WHILST he expressed general cornWV mendation of the Transport Advisory Council's report on services and rates, a criticism of the Council's recommendation as to the appointment of area rates officers was voiced by Mr. F. G. Bibbings, secretary of A.R.O. Yorkshire Area, at a Dewsbury meeting of A.R.O. members, on Monday, The T.A.C., he pointed out, had recommended the appointment by the Minister of Transport of a rates officer to each area. His business it would be to approve, with or without modification, a schedule of agreed rates put before him by the area rates committee, or, failing agreement, to fix a schedule of rates which he considered appropriate.
In the speaker's opinion, however, the area rates officers ought not to be empowered to interfere with any schedules of rates created by the area rates committees, whose members were, after all, directly engaged in the business of road haulage. It was possible that the very fact that area rates officers were appointed by the Minister might impose upon them an obligation to pursue a policy laid down by the Ministry.
Study T.A.C. Report.
Unfortunately, the experience of the road-transport industry since 1930 had been that, in many respects, Ministerial policy had not erred on the side of either sympathy or generosity towards road transport. If for no other reason than the one he had mentioned, added Mr. Bibbings, it behoved operators to display a much keener interest in the T.A.C. report.
It could not be expected, lie continued, that the T.A.C. report would be perfect. Nevertheless, operators could view with satisfaction the progress already made. In his opinion, many of the recommendations were calculated to prove of inestimable value to the industry.
It was obvious that stabilization of rates 'could not he effected along the lines of voluntary effort, but it was good to read that the T.A.C. recognized the right of the industry to create its own rates structure. It now remained for hauliers to get together in a spirit of goodwill, and to make a determined effort to pull their weight in the elimination of uneconomic competition.