RACE FOR TROLLEYBUS RUNNING POWERS
7th January 1938
Page 30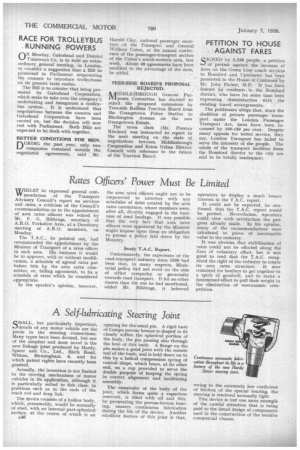 Page 30, 7th January 1938 —
RACE FOR TROLLEYBUS RUNNING POWERS
Close
Keywords :
ON Monday, Gateshead and District Tramways Co. is to hold an extraordinary general meeting, in London, to consider a suggestion that a Bill be promoted in Parliament empowering the concern to introduce trolleybuses on its present tram routes.
The Bill is to counter that being promoted by Gateshead Corporation, which seeks to take over the company's undertaking and inaugurate a trolleybus system. It is understood that negotiations between the concern and Gateshead Corporation have been carried on, but the decision will now rest with Parliament. Both Bills are expected to be dealt with together, BETTER CONDITIONS FOR MEN.
DURING the past year, only two companies remained outside the negotiated agreements, said Mr,
Harold Clay, national passenger secretary of the Transport and General Workers Union, at the annual conference of the passenger-transport section of the Union's south-western area, last week. About 40 agreements have been modified to the advantage of the men, he added. • TEES-SIDE BOARD'S PROPOSAL REJECTED. _ ifIDDLE.AIROUGH General Pur1V1 poses Committee has decided to reject the proposed extensions by Tees-side Railless Traction Board from the Grangetown Police Station to Birchington Avenue on the new Grangetown Estate.
The town clerk (Mr. Preston Kitchen) was instructed to report to the next meeting on the state of negotiations between Middlesbrough Corporation and Eston Urban District Council with reference to the future of the Traction Board.
PETITION TO HOUSE AGAINST FARES
SIGNED by 2,238 people, a petition of protest against the increase of fares on the Green Line coach services to Rornford and Upminster• has been presented to the HouSe Of Commons. by Mr. John Parker, M.P-. It has been framed by residents . in the Roinford district, who have for -some time been expressing dissatisfaction with the existing travel arrangements.
The petitioners allege that, since the abolition of private passenger transport under the London Passenger Transport Act, fares have been increased by 100-150 per cent. Despite many appeals for better service, they say, London Transport has failed to serve the interests of the people. The whole of the transport facilities from the Romford district to the city are said to be totally inadequate.