A Self-lubricating Steering Joint
7th January 1938
Page 30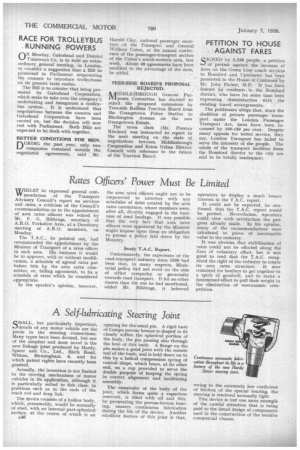 Page 30, 7th January 1938 —
A Self-lubricating Steering Joint
Close
CMALL, but particularly important,
details of any motor vehicle are the joints in the steering connections. Many types have been devised, but one of the simplest and most novel is the new linkage joint produced by Hardy, Spicer and Co., Ltd., Birch Road, Witton, Birmingham, 6, and for which patent rights have recently been granted.
Actually, the invention is not limited to the steering mechanisms of motor vehicles in its application, although it is particularly suited to this class, in positions such as at the ends of the track rod and drag link.
The device consists of a hollow body, which, presumably, would be normally of steel, with an internal part-spherical surface, at the centre of which is an 1346 opening for the usual pin. A rigid bush of Compo porous bronze is shaped to fit closely within the spherical portion of the body, the pin passing also through the bore of this bush. A flange on the pin makes a good joint with the remote end of the bush, and is held down on to this by a helical compression spring of conical shape, which bears, at its other end, on a cap provided to serve the double purpose of keeping the spring in correct alignment and facilitating assembly.
The remainder of the body of the joint, which forms quite a capacious reservoir, is filled with oil and this, by permeating the porous-bronze bearing, ensures continuous lubrication during the life of the device. Another excellent feature of this joint is that, owing to the extremely low coefficient of friction of the special bearing, the steering is rendered unusually light. This device is but one more example of the careful attention that is being paid to the detail design of components used in the construction of the modern commercial chassis,