Modern Fashion in a Demonstration Van
7th January 1938
Page 25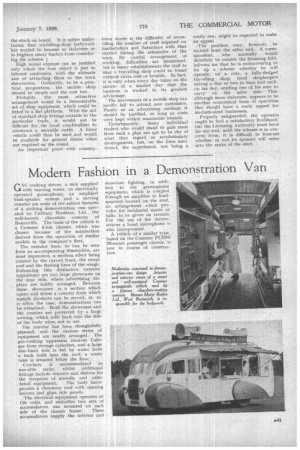 Page 25, 7th January 1938 —
Modern Fashion in a Demonstration Van
Close
GAS cooking stoves, a sink supplied with running water, an electrically operated gramophone, an amplified loud-speaker system and a serving counter are some of the salient features of a striking demonstration van operated by Cadbury Brothers, Ltd., the well-known chocolate concern of Bournville. The basis of the vehicle is a Commer 5-ton chassis, which was chosen because of the satisfaction derived from the operation of similar models in the company's fleet.
The exterior lines, as 'can be seen from an accompanying illustration, are most impressive, a modern effect being created by the curved front, the swept roof and the flowing lines of the wings. Enhancing this distinctive exterior appearance are two large showcases on the near side, where advertising displays are boldly arranged. Between these showcases is a section which opens and forms a counter from which sample products can be served, or, as is • often the case, demonstrations can be witnessed. Both the showcases and the counter are protected by a large' awning, which rolls back into the side of the body when not in use.
The interior has been thoughtfully planned, and the various • items of equipment are neatly arranged. The gas-cooking apparatus receives Calor gas from storage cylinders, and a large zinc-lined sink is fed by water from a tank built into the roof; a waste tank is situated below the floor, Crockery is accommodated in movable racks, whilst additional fittings include drawers and shelves for the reception of utensils and .other
detail equipment. The body incorporates a clerestory roof with opening louvres and glass side panels.
The electrical equipment operates at 110 volts, and embodies two sets of accumulators, one mounted on each side of the chassis frame. These accumulators supply the interior and showcase lighting, in addition to the gramophone equipment, which is coupled through an amplifier to loudspeakers located on the roof, an arrangement which provides for incidental music or talks to be given on• records. For the use of the demonstrator a hand microphone is also incorporated.
A vehicle of a similar type, based on the Commer PLNE5 26-seater passenger chassis, is now in course of construction.