B.R.F. a Power in the Land
7th January 1938
Page 13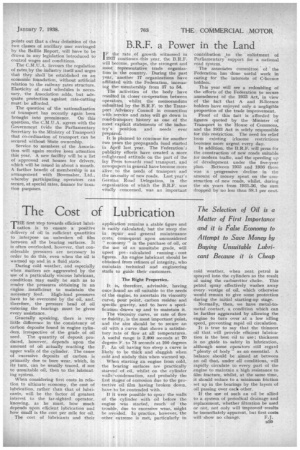 Page 13, 7th January 1938 —
B.R.F. a Power in the Land
Close
IF the rate of growth witnessed in 119:17 continues this year, the B.R.F. will become, perhaps, the strongest and most representative trade organization in the country. During the past year, -another 17 organizations have affiliated with the Federation, increasing themembership from 37 to 54.
The activities of the body have resulted in closer co-operation between operators, whilst the memorandum submitted by the B.R.F. to the Transport Advisory Council in connection with service and rates will go down in road-transport history as one of the most explicit statements of the industry's position and needs ever prepared.
It is planned to continue for another two years the propaganda fund started in April last year. The Federation's publicity efforts have created a more enlightened attitude on the part of the lay Press towarda road transport, and newspapers in general have become more alive to the needs of transport and the necessity of new roads. Last year's German Road Delegation, in theorganization of which the B.R.F. was vitally concerned, was an important contribution to thefl enlistment of Parliamentary support for a national road System.. . The associates committee of the Federation has deine useful work in caring for the interests of C-licence holders.
This year will see a redoubling of the efforts of the Federation to secure amendment Of the 1933 Act, in view of the fact that A and B-licence holders have enjoyed only a negligible proportion of the trade improvement.
Proof of this faet is afforded by figures quoted by the Minister of Transport in the House of Commons, and the 1933 Act is solely responsible for this restriction. The need for relief from existing irksome restrictions becomes more urgent every day.
In addition, the B.R.F. will press for the construction of new roads suitable for modern traffic, and the speeding up of development under the five-year plan. Between 1933 and 1936 there was a progressiVe decline in the amount of money spent on the construction of new roads, whilst, during the six years from 1931-36, the sum dropped by no less than 58.1 per cent.