1938 Will be
7th January 1938
Page 12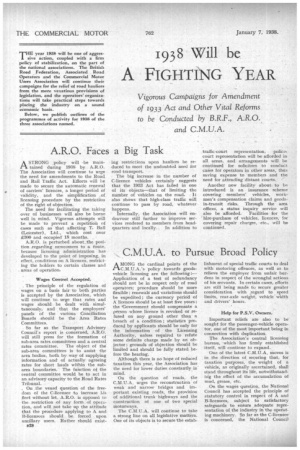 Page 12, 7th January 1938 —
1938 Will be
Close
A FIGHTING YEAR Vigorous Campaigns for Amendment of 1933 Act and Other Vital Reforms to be Conducted by B.R.F., A.R.O. and C.M.U.A.
rrHE year 1938 will be one of aggres.1 sive action, coupled with a firm policy of stabilization, on the part of the national associations. The British Road Federation, Associated Road Operators and the Commercial Motor Users Association will continue their campaigns for the relief of road hauliers from the more vexatious provisions of legislation, and the operators' organizations will take practical steps towards placing the industry on a sound economic basis.
Below, we publish outlines of the programmes of activity for 1938 of the three associations named.