Ring Road Garage and Schmitz Cargobull
7th February 2008
Page 45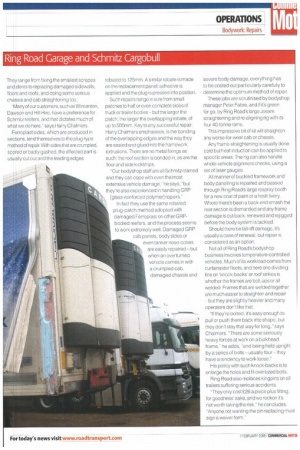 Page 44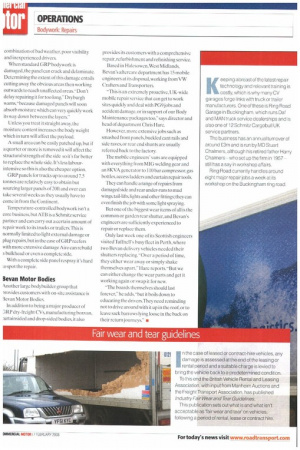 Page 45, 7th February 2008 —
Ring Road Garage and Schmitz Cargobull
Close
Keywords :
Transport
,
Private Transport
,
Land Transport
,
Structural Engineering
,
Structural System
,
Car Body Styles
,
Car Classifications
,
Truck
,
Vehicles
,
Frame
,
Dodge Ram
,
Chassis
eeping abreast of the latest repair technology and relevant training is
tu, costly, which is why many CV garages forge links with truck or trailer manufacturers. One of these is Ring Road Garage in Buckingham, which runs Oaf and MAN truck service dealerships and is also one of 12 Schmitz Cargobull UK service partners.
The business has an annual turnover of around £3m and is run by MD Stuart Chalmers, although his retired father Harry Chalmers who set up the firm in 1957 still has a say in workshop affairs.
Ring Road currently handles around eight major repair jobs a week at its workshop on the Buckingham ring road. They range from fixing the smallest scrapes and dents to replacing damaged sidewalls, floors and roofs, and doing some serious chassis and cab straightening too.
"Many of our customers, such as Wincanton, Dawson and Hill Hire; have a preference for Schmitz reefers, and that dictates much of what we do here," says Harry Chalmers.
Ferroplast sides, which are produced in sections, lend themselves to the plug-type method of repair. With sidesthat are crumpled, scored or badly gashed, the affected part is usually cut out and the leading edges rebated to 125mm. A similar rebate is made on the replacement panel; adhesive is applied and the plug is pressed into position.
Such repairs range in size from small patches to half or even complete sides of truck or trailer bodiesbut the larger the patch, the larger the overlapping rebate, of up to 500mm. Key to any successful repair, Harry Chalmers emphasises, is the bonding of the overlapping edges and the way they are sealed and glued into the framework extrusions. There are no metal fixings as such: the roof section is bonded in, as are the floor and side kickstrips.
"Our bodyshop staff are all Schmitz-trained and they can cope with even the most extensive vehicle damage," he says, "but they're also experienced in handling GRP [glass-reinforced polymer] repairs." In fact they use the same rebated plug-patch method adopted with damaged Ferroplast on other GAPbodied reefers, and the process seems to work extremely well. Damaged GAP cab panels, body sides or even tanker nose-cones are easily repaired but when an overturned vehicle comes in with a crumpled cab, damaged chassis and severe body damage, everything has to be costed out particularly carefully to determine the optimum method of repair.
These jobs are scrutinised by bodyshop manager Peter Fabre, and if its green for go, by Ring Road's large Josam straightening and re-aligning rig with its four 40-tonne rams.
This impressive bit of kit will straighten any worse-for-wear cab or chassis.
Any frame-straightening is usually done cold but heat induction can be applied to specific areas. The rig can also handle whole-vehicle alignment checks, using a set of laser gauges.
All manner of buckled framework and body panelling is repaired and passed through Ring Road's large respray booth for a new coat of paint or a fresh livery. Where there's been a back-end smash the rear section is dismantled and any frame damage is cut back, renewed and rejigged before the body system is tackled.
Should there be tail-lift damage, it's usually a case of renewal, but repair is considered as an option.
Not all of Ring Road's bodyshop business involves temperature-controlled vehicles. Much of its workload comes from curtainsider fleets, and here one dividing line on 'knock-backs' or roof strikes is whether the frames are bolt-ups or all welded. Frames that are welded together are much easier to straighten and repair but they are slightly heavier and many operators don't like that.
"If they're bolted, it's easy enough to pull or push them back into shape, but they don't stay that way for long," says Chalmers. "There are some seriously heavy forces at work on a bulkhead frame," he adds, and being held upright by a series of bolts usually four they have a tendency to work loose."
His policy with such knock-backs is to enlarge the holes and fit oversized bolts.
Ring Road also replaces kingpins on all trailers suffering serious accidents.
'They only cost £26 a piece plus fitting. for goodness' sake, and we reckon it's not worth taking the risk," he concludes. "Anyone not wanting the pin replacing must sign a waiver form."