TRANSLATE MOTOR TRANSPORT SERVICE INTO £ s. d. The Significance of the Human Element.
7th February 1918
Page 9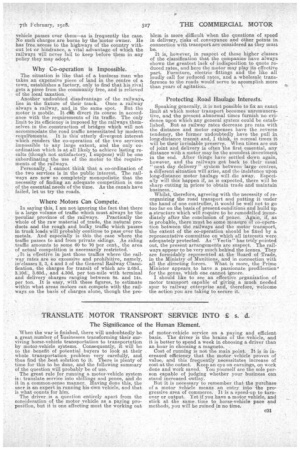 Page 9, 7th February 1918 —
TRANSLATE MOTOR TRANSPORT SERVICE INTO £ s. d. The Significance of the Human Element.
Close
When the war is finished, there will undoubtedly be a great number of 'Businesses transforming their surviving horse-vehicle transportation to transportation
• by motor-vehicle systems. Consequently, it will be to the benefit of potential buyers to look at their whole transportation, problem very carefully, and thus find the best solution to its There is plenty of time for this to be done, and the following summary of the question will probably be of use. The great rule for running a motor-vehicle system is: translate service into shillings and pence, and do it in a common-sense manner. Having done this, the user is ark expert in running his own vehicle, and that is what counts for him. The driver is a question entirely apart from the consideration of the motor vehicle as a paying proposition, but it is one affecting most the working out
of motor-vehicle service on a paying and efficient basis. The' driver is the brains of the vehicle, and it is better to spend a week in choosing a driver than an hour in choosing a magneto. . Cost of running is not the main point. It iss in increased efficiency that the motor vehicle proves of value, and this frequently necessitates increase of cost at the outset. Keep an eye on earnings, on work ,done and work saved. You yourself are the sole person capable of judging whether your business can stand increased outlay.
But it is necessary' to remember that the purchase of a motor vehicle means an entry into the progressive area of commerce. It is a speed-up to turnover or output. Yet if you have a motor vehicle, and stick at the same, time to horse-vehicle pace and methods, you will be ruined in no time.