CONTROL OF ROAD TRANSPORT.
7th February 1918
Page 2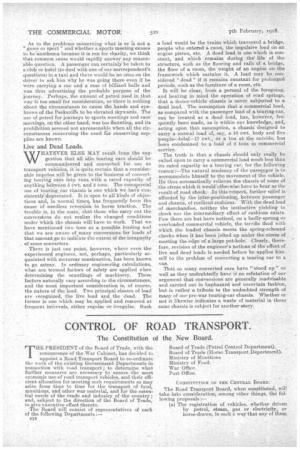 Page 3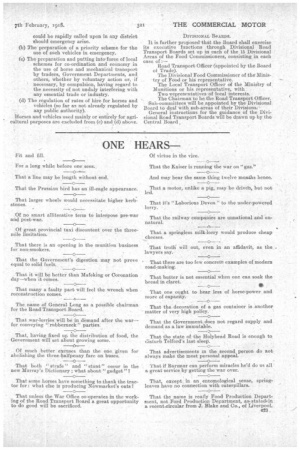 Page 2, 7th February 1918 —
CONTROL OF ROAD TRANSPORT.
Close
The Constitution of the New Board.
THE PRESIDENT of the Board of Trade, with the concurrence of the War Cabinet, has decided to appoint a Road Transport Board to co-ordinate the work of the existing Government Departments in connection with road transport ; to determine what further measures are necessary to ensure the most economic use of road transport vehicles, and their effi . eient allocation for meeting such requirements as may arise from time to time for the transport of food, munitions', and other war material, and for the essential needs of the trade and industry of the country ; and, subject to the direction of the Board of Trade, to give executive effect thereto. The Board will consist of representatives of each of the following Departments :— e18 • Board of Trade (Petrol Control Department). Board of Trade (Horse Transport Department). Ministry of Munitions Ministry of Food.
War Office.
Post Office.
CONSTITUTION OF TEE CENTRAL BOaRD.
The Road Transport. Board, when .constituted, evil] take into consideration, among other things, the following proposals (a) The registration of vehicles, whether driven by petrol, steam, gas or electricity, or horse-drawn, in such a way that any of them could be rapidly called upon in any district should emergency arise.
(b) The preparation of a priority scheme for the use of such vehicles in emergency.
(e) The preparation and putting into force of local schemes for coordination and economy in the use of horse and mechanical transport by traders' Government Departments, and others, whether by voluntary action or, if necessary, by compulsion having regard to the necessity of not unduly interfering with any essential trade or industry.
• (d) The regulation of rates of hire for horses and _ vehicles (so far as not already regulated by any public authority). Horses and vehicles used mainly or entirely for agricultural purposes are excluded from (c) and (d) above.
DIVISIONAL 13@ARDS.
It is. further proposed -that the -Board shall exercise its executive functions through Divisional Road Transport Boards set up in each of the 15 Divisional Areas of the Food Commissioners, consisting in each case of Road Transport Officer (appointed by the Board of Trade). The Divisional Food Commissioner of the_Ministry of Food or his representative. The Local Transport Officer of the Ministry of Munitions or his representative, with • Two +representatives of local interests. • The Chairman'te be the Road Transport Officer. Sub-committees will be appointed by the Divisional Board to cleal with sub-areas of their Divisions:General instructions for the guidance of the Divisional Read Transport Boards :will be drawn Up by the Central Board