AGRIMOTOR NOTES.
7th February 1918
Page 19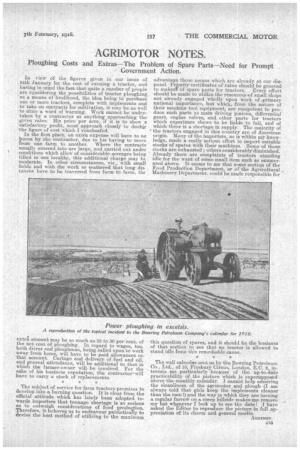 Page 19, 7th February 1918 —
AGRIMOTOR NOTES.
Close
Ploughing Costs and Extras—The Problem of Spare Parts—Need for Prompt Government Action.
Li view of the figures given in our issue of .24th January for the cost of running a tractor, and. having in mind the fact that quite a number of people are considering the possibilities of tractor ploughing, as a means of livelihood, the idea being to purchase one or more tractors, complete with implements and to take on contracts for cultivation, it may be as. well to utter a word of warning. Work cannot be undertaken by a contractor at anything approaching the given rates. His price per acre, if it is to show a -satisfactory profit, must approach closely to double the figure of cost which! vouchsafed. In the first, place, an extra expense will have to be 'borne by the contractor, due to his having to move from one farm to another. Where the contracts -usually entered into are large, and carried out under conditions which 'allow of conSidera.ble acreages being tilled in one locality, this additional charge may be moderate. In other circumstances, viz., with small fields and with the work so scattered that long distances have to be traversed from farm to farm, the extra amount may be so much as 25 to 20 per cent, of the net cost of ploughing. In regard to wages, too, both driver and ploughman, being called upon to work away from home, will have to be paid allowances on that account. Cartage and delivery of fuel and oil, and general attendance, will be additional to that in which the farmer-owner will, be involved. For the sake of his business reputation, the contractor-will have to carry a stock of replacements.
The subject of service for farm tractors promises to develop into a burning question. It is clear from the official attitude which has lately been adopted towards importers that tonnage shortage is so serious as to outweigh considerations of food produc'tiorc Therefore, it behoves us to endeavour patriotically to devise the best method of utilizing to the maximum advantage those means which are already at our disposal. Priority certificates of value should be granted to maker!' of spare parts for tractors. Every effort should be made to utilize the resources of small shops net al/ready engaged wholly upon work of 4:nil-nary national importance, but which; from the nature of their machine tool equipment, are competent to produce such parts as main driving pinions, differential gears, engine valves; and other parts for tractors which experience shows to be liable to fail, and of which:there is a shortage in supply; The majority of the tractors engaged in this country are Of American origin. Many of the importers, as is within mY knowledge, made a really serious effort to import suitable stocks of spares With their machines. Seme'of those stocks are exhausted ; others considerably diminished. Already there are complaints of tractors standing idle for the want of some small item such as enumerated above. It seems to me that some section of the Food Production 'Department, or of the Agrieultural INtraehineryDepartment. could be made reSpoilSible for
this question of spares, and it should be the business of that section to see that no tractor is allowed to stand idle from this remediable cause.
* *
The wall calendar sent us by -the Bowling Petroleum Co., Ltd., of 16, Finsbury Circus, London, E.C. 2, interests me particularly because of the up-to-date practicability of the picture which is superimposed above the monthly calendar. I cannot help admiring the cleanliness of the agrimotor and plough a am always told that girls keep the implements cleaner than the men !) and the way in which they are turning a regular furrow on a steep hillside rnakes.me remove my hat whenever I look up to see the date! I have asked the Editor to reproduce the picture in full appreciation of its charm and general. merits. AGRIMOT. c45