BRITISH-BUILT TRACTOR ATTACHMENT FOR FORDS.
7th February 1918
Page 18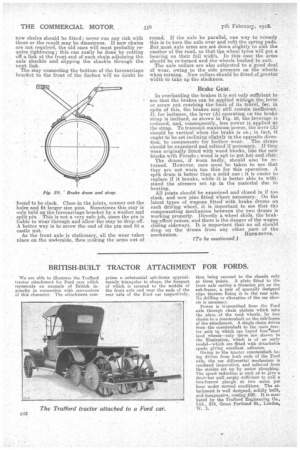 Page 18, 7th February 1918 —
BRITISH-BUILT TRACTOR ATTACHMENT FOR FORDS.
Close
• We are able to illustrate the Trafford tractor attachment for Ford cars which represents an example of British ingenuity in connection with conversions .of this character. The attachment coin prises a. substantial sub-frame approximately triangular in shape, the forepart of which is secured to the middle of the front axle and near the ends of the rear axle of the Ford car respectively, thus being secured to the chassis only at three points. A plate fitted to the front axle carries a trunnion pin on the sub-frame, a pair of specially designed clips thereon fixing it to the rear axle. No drilling or alteration of the car chassis is necessary. Power is transmitted from the Ford axle through chain pinions which take the place of the road wheels, by two chains to a countershaft on the sub-frame of the attachment. A single chain drives from the countershaft to the main tractor axle to which are keyed foul...steel land wheels—only three are shown in the illustration, which is of an early model—which are fitted with detachable spuds giving excellent adhesion. Owing to the tractor countershaft being driven from both ends of the Ford axle, the car differential mechanism is rendered inoperative, and relieved from the strains set up by motor ploughing. The speed reduction is such as to give a draw-bar pull amply sufficient to pull a two-furrow plough at two miles per hour under normal conditions. The attachment is well designed, solidly built, i and inexpensive, costing £80. It s marketed by the Trafford Engineering Co., Ltd. 214, Great Portland St., London, W. I.