GAS COMPULSORY !-LOOPHOLES NIL ! !
7th February 1918
Page 15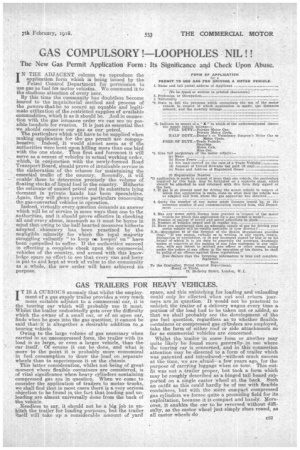 Page 15, 7th February 1918 —
GAS COMPULSORY !-LOOPHOLES NIL ! !
Close
The New Gas Permit Application Form : Its Significance and Check Upon Abuse.
IN THE ADJACENT column we reproduce the application form which is being issued by the Petrol Control Department for permission to Use gas as fuel for motor vehicles. We commend it to the studious attention of every User.
By this time the community has doubtless become inured to the inquisitorialmethod and proces,s of the powers-that-he to seeure an equable and legitimate utilization of the restricted supplies of available commodities, hich is as it should be. And in connection with the gas issuance order we can see no possible loophole for evasion. It is just as essential that we should conserve our gas as our petrol.
The particulars which will have to be supplied when making application for the gas permit are comprehensive. Indeed, it would almost seem, as if tRe authorities were bent uort, killing more than one bird with the one stone. Thus first and foremost it will serve as a census of vehicles in actual working order, which, in conjunction with the newly-formed Read Transport Board, should prove of invaluable service in. the elaboration of the scheme for maintaining the essential traffic of the country. Secondly, it will enable them to determine precisely the volatile of. floating stocks of liquid fuel in the country. Hitherto the -estimate of unused petrol and its substitute lying dormant in private hand § has been speculative. Again, they will glean precise particulars concerning the gas-converted vehicles in operation. Indeed, virtually every question demands an answer which will be of service in more ways than one to the authorities, and it should prove effective in checking all and every abuse, inasmuch as it must be borne in mind that owing to the half-hearted measures hitherto adopted chicanery has been practised by the negligible minority for which the loyal majority struggling valiantly "to keep ova keepin' on" have been campelled to suffer. If the authorities succeed in effecting a complete cheek upon the conlincreial vehicles of the et-tinitry, and armed with this knowledge spare no effort to see that every van and lorry is put to and kept at work of value to the -community as a whole, the new order will have achieved its. purpose.