Drivers on trust
7th August 1970
Page 27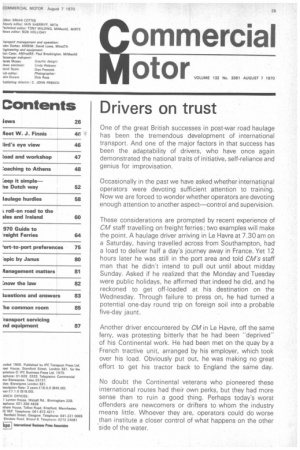 Page 27, 7th August 1970 —
Drivers on trust
Close
One of the great British successes in post-war road haulage has been the tremendous development of international transport. And one of the major factors in that success has been the adaptability of drivers, who have once again demonstrated the national traits of initiative, self-reliance and genius for improvisation.
Occasionally in the past we have asked whether international operators were devoting sufficient attention to training. Now we are forced to wonder whether operators are devoting enough attention to another aspect—control and supervision.
These considerations are prompted by recent experience of CM staff travelling on freight ferries; two examples will make the point. A haulage driver arriving in Le Havre at 7.30 am on a Saturday, having travelled across from Southampton, had a load to deliver half a day's journey away in France. Yet 12 hours later he was still in the port area and told CM's staff man that he didn't intend to pull out until about midday Sunday. Asked if he realized that the Monday and Tuesday were public holidays, he affirmed that indeed he did, and he reckoned to get off-loaded at his destination on the Wednesday. Through failure to press on, he had turned a potential one-day round trip on foreign soil into a probable five-day jaunt.
Another driver encountered by CM in Le Havre, off the same ferry, was protesting bitterly that he had been "deprived" of his Continental work. He had been met on the quay by a French tractive unit, arranged by his employer, which took over his load. Obviously put out, he was making no great effort to get his tractor back to England the same day.
No doubt the Continental veterans who pioneered these international routes had their own perks, but they had more sense than to ruin a good thing. Perhaps today's worst offenders are newcomers or drifters to whom the industry means little. Whoever they are, operators could do worse than institute a closer control of what happens on the other side of the water.