Regional pay deals plus talks forum
7th April 1984
Page 5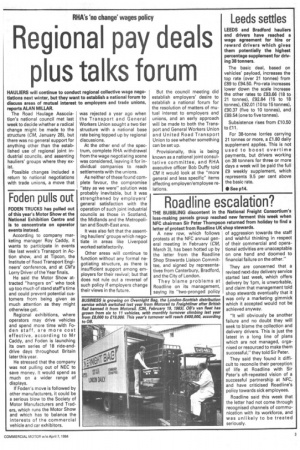 Page 5, 7th April 1984 —
Regional pay deals plus talks forum
Close
HAULIERS will continue to conduct regional collective wage negotiations next winter, but they want to establish a national forum to discuss areas of mutual interest to employers and trade unions, reports ALAN MILLAR.
The Road Haulage Association's national council met last week to decide whether a radical change might be made to the structure (CM, January 28), but there was no general support for anything other than the established use of regional joint industrial councils, and assenting hauliers' groups where they exist.
Possible changes included a return to national negotiations with trade unions, a move that was rejected a year ago when the Transport and General Workers Union sought a two tier structure with a national base rate being topped up by regional discussions.
At the other end of the spectrum, complete RHA withdrawal from the wage negotiating scene was considered, leaving it for individual companies to reach settlements with the unions.
As neither of these found cornplete favour, the compromise "stay as we were" solution was probably inevitable, but it was strengthened by employers' general satisfaction with the operation of such joint industrial councils as those in Scotland, the Midlands and the Metropolitan and South-East area.
It was also felt that the assenting hauliers' groups which negotiate in areas like Liverpool worked satisfactorily.
Other areas will continue to function without any formal negotiating structure, as there is insufficient support among employers for their revival; but that does not rule out a reversal of such policy if employers change their views in the future. But the council meeting did establish employers' desire to establish a national forum for the resolution of matters of mutual interest to employers and unions, and an early approach will be made to both the Transport and General Workers Union and United Road Transport Union to see whether something can be set up.
Provisionally, this is being known as a national joint consultative committee, and RHA executive officer Bob Duffy told CM it would look at the "more general and less specific" items affecting employer/employee relations.