One Hears—
7th April 1944
Page 17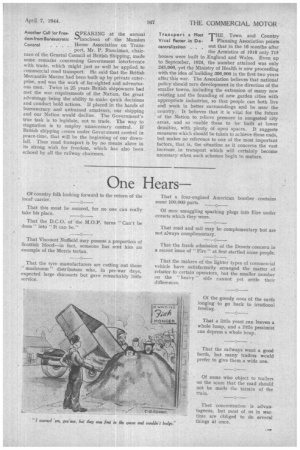 Page 17, 7th April 1944 —
One Hears—
Close
Of country folk looking forward to the return of the local' carrier.
That this must be assured, for no one can really take his place.
That the D.C.O. of the M.O.P. turns "Can't be done" into "It can be."
That Viscount Nuffield may possess a proportion of Scottish blood—in fact, someone has sent him an example of the Morris tartan.
That the tyre manufacturers are cutting out those " mushroom " distributors who, in pre-war days, expected large discounts but gave remarkably little service. That a four-engined AmeriCan bomber contains some 100,000 parts.
Of men smuggling sparking plugs intb Eire under corsets which they wore.
That road and rail may be complementary but are not always complimentary.
That the frank admission of the Dennis concern in a recent issue of " Fire " at first startled some people.
That the makers of the lighter types of commercial vehicle have satisfactorily arranged the matter of rebates to certain operators, but the smaller number on the " heavy " side cannot yet settle their differences.
Of the greedy ones of the earth longing to go back to irrational feeding.
That a little yeast can leaven a whole lump, and a little pessimist can depress a whole heap.
That the railways want a good berth, but many traders would prefer to give them a wide one.
Of some who object to trailers on the score that the road should not be made the terrain of the train.
That concentration is advantageous, but most of us in wartime are obliged to do several things at once.