Pneumatics More and More in Favour.
6th October 1925
Page 1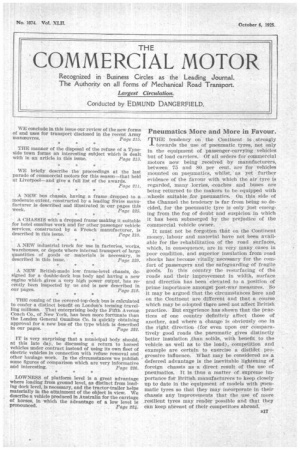 Page 1, 6th October 1925 —
Pneumatics More and More in Favour.
Close
THE tendency on the Continent is strongly towards the use of pneumatic tyres, not only in the equipment of passenger-carrying vehicles but of load carriers. Of all orders for commercial motors now being received •by Manufacturers, between. 75 and 80 per cent, are for vehicles mounted on pneumatics, whilst, as yet further evidence of the favour with which the air tyre is regarded, many lorries, coaches and buses are being returned to the makers to be equipped with wheels suitable for pneumatics. On this side of the Channel the tendency is far from being so decided, for the pneumatic tyre is only just emerging from the fog of doubt and suspicion in which it has been submerged by the prejudice of the commercial vehicle owner.
It must not be forgotten that on the Continent money, labour and material have not been available for the rehabilitation of the road surfaces, which, in consequence, are in very many cases in poor condition, and superior insulation from road shocks has become vitally necessary for the comfort of passengers and the safeguarding of fragile goods. In this country the resurfacing of the roads and their improvement in width, surface and direction has been elevated to a position of prime importance amongst post-war measures. So It may be argued that the circumstances here and on the Continent are different and that a course which may be adopted there need not affect British practice. But expierience has shown that the practices of one country definitely affect those of another, and where a change is obviously one in the right direction (for even upon our comparatively good roads the pneumatic gives distinctly better insulation ,than solids, with benefit to the vehicle as well as to the load), competition and example are certain to exercise a disthict progressive influence. What may be considered as a deferred advantage is the inevitable lightening of foreign chassis as a direct result of the use of pneumatics. It is thus a matter of supreme hnportance for British manufacturers to keep closely up to date in the equipment of models with pneumatic tyres so that they may incorporate in their chassis any improvements that the use of more resilient tyres may render possible and that they can keep abreast of their competitors abroad.