An Opet lg Costs Records
6th November 1942
Page 34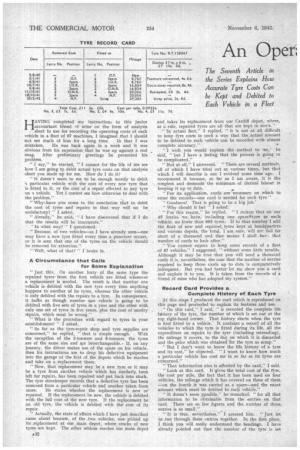 Page 35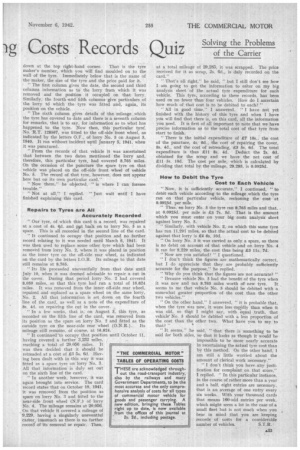 Page 34, 6th November 1942 —
An Opet lg Costs Records
Close
Solving the Problems of the Carrier
HAVING completed my instructions to this junior accountant friend ef 'nine on the form of analysis sheet to use for recording the operating costs of each vehicle in a fleet -of 67 machines, I imagined .that I should not see much of him for a long time. In that -I was
.mistaken. He was back again in a week and it was obvious from his expression that he was up against a real snag. After preliminary greetings he presented his problem.
I say," he started, " I cannot for the life of me see how I am going to debit actual tyre costs on that analysis sheet you made up for me. How do I do it?
"It doesn't seem to me to be enough merely to debit 't particular vehicle with the cost of every new tyre that is fitted to it, or the cost of a repair effected to any tyre on a vehicle. Yet I cannot see how otherwise to deal with the problem."
" Why,have you come to the conclusion that to debit the cost of tyres and repairs in that way will no be satisfactory? " I asked.
" Already," he said, " I have .discovered that if I do that the results will be inaccurate."
' In what way? " I questioned.
"Because, of two vehicles—as I have already seen—one may have a new tyre fitted every time a puncture occurs, or it is seen that one of the tyres on the vehicle should be removed for attention." , "Well, what of that? " I broke in.
A Circumstance that Calls for Some Explanation
"Just this. On another lorry of the same type the repaired tyresfrom the first vehicle are fitted whenever a replacement is needed. The result is that number one vehicle is debited with the new tyre every time anything happens to another of its tyres, whereas the other vehicle is only debited with the repairs to a tyre. In consequence, it loOks as though number cum vehicle is going to be debited with five sets of tyres in a year and the other with only one set of tyres in five years, plus the cost of sundry repairs, which must be wrung." .
"What is the procedure with regard to tyres in your establishment? " I asked. • " So far as the tyre-repair shop and tyre supplies are
concerned," he replied, " that is simple enough. With the exception of the 2-tonners and 43-tonners, the tyres are of the same size and a4re interchangeable.. If, on any journey, the driver makes use of the spare on his vehicle, then his instructions are to drop his defective equipment into the garage at the first of the depots which he reaches and take on a replacement there.
Now, that replacement may be a new tyre or it may be a tyre from another vehicle which has similarly. been left for repairs, has been repaired and put back into stock. The tyre storekeeper records, that a defective tyre has been removed from a particular vehicle and another taken from store. He states whether the replacement is new or' repaired. If the replacement he new, the vehicle is debited with the full cost of the new tyre. If the replacement be an old tyre, the vehicle is debited with thee cost of its repair.
"Actually, the state of affairs which I have just described came about because, of the two vehicles, one picked up its replacement at our main depot, where stocks of new tyres are kept. The other seldom reaches our main depot
and takes its replacement from our Cardiff depot, where, as a rule, repaired tyres are all that are kept in stock."
." In actual fact," I replied, " it is not at all difficult to keep tyre costs in such a way that the,actual amount to be debited to each vehicle can be recorded with almost complete accuracy." •
"I 'wish you would explain the method to me,he said, " but I have a feeling that the process is going to be complicated."
" Not at all," I answered. " There are several methods. all of which I have tried out at various times, but that which I will describe is one I evolved some time ago. I recommend it because, so far as I am aware, it is the simplest and demands the minimum of Clerical labour in keeping it up to date. 4s "For its application, cards are necessary on which to enter the records—one card is needed for each tyre" "Goodness! That is going to be a big job.'
" Why should it be? " I asked. "For this reason," he replied. " I reckon that on our ,67 lorries we have, including one sparelltyre to eachi vehicle, no fewer than 695 tyres. If to that numbeT I add the float of new and repaired. tyres kept at headquarters and various depots, the total, I am sure, will no.: fail far short of a thousand and that means I shall hav-. that number of cards to look after."
"You cannot expect to keep costs records of a fleet of 67 vehicles," I suggested, " without some little trouble. Although it may be true that you will need a thousand cards it is, nevertheless, the case that the number of entries required to keep those cards up to date is comparatively ,infrequent. But you had better' let me show you a card and explain it to you. 'It is taken from the records of a friend of mine who has adopted my system."
Record Card Provides a.
Complete History of Each Tyre At this stage I produced the card which is reproduced on this page and proceeded to explain its features and use.
" On this card," I said, " is recorded the complete life h.estory of the tyre, the number of which is set out at the top right-hand corner. That history starts when the tyre is first fitted to a vehicle. It contains a record of all the vehicles to which the tyre is fitted during its life, all the expenditure on repairs to the tyre (including retreading), the mileage it covers, to the day on which it is discarded and the price which was obtained for the tyre as scrap."
" But I don't want to know the life history of a tyre and its cost," he objected. " I want to know how much a particular vehicle has cost me in so far as its tyres are concerned."
" That information also is afforded by the card," I said.
" Look at this card. It'gives the total cost of the tyre, the cost per mile, the fact that it has been used on four vehicles, the mileage which it has covered on three of them —on the fourth it was carried as a spare—and the exact amount which must be debited to each vehicle."
" It doesn't seem ppssible," he remarked, "for all that information to be obtainable from the entries on that card. There are so few figures and the number of those, entries is so small."
" It is true, nevertheless," I assured him. "Just let us run through these entries together. In the first place. I think you will easily understand the headings. I have already pointed out that the number of the tyre is set down at the top right-hand corner. That is the tyre maker's number, which you will find moulded on to the wail of the tyre. Immediately below that is the name of the maker, the size of the tyre and the price paid for it. • " The first column gives the date, the second and third columns information as to the lorry from which it was removed and the position it occupied on that lorry. Similarly, the fourth -and fifth columns give particulars of the lorry td which the tyre was fitted and, again, its position on the vehicle. • " The sixth column gives details of the mileage which the tyre has covered to date and there is a seventh column for remarks, that is to say, for information as to what has happened to the tyre. Now then, this particular tyre', No. 'R.T. 128567, was fitted to the off-side front wheel, as indicated by the letters 0.F., of lorry No. 5 on August 3, 1940. It ran without incident until January 5, 1941, when it was punctured.
" From the records of that vehicle it was ascertained that between the two dates mentioned the lorry and, therefore, this particular tyre, had -covered 8,765 miles. On the occasion of the puncture the spare tyre on that vehicle was placed on the off-side front wheel of vehicle No. 5. The record of that tyre, however, does not appear here but on its own particular card."
" Now there," he objected, "is where can foresee trouble."
" Not at all," I replied. " Just wait until I have finished explaining this card.
Repairs to Tyres are All
Accurately Recorded
" Our tyre, of which this card is a record, was repaired at a cost of 4s. 6d. and ppt back on to lorry No. 5 as a spare. This is all recorded in the second line of the card.
"it continued to occupy that position and no further record relating to it was needed until March -6, 194t. It was then used to replace some other tyre which had been removed from lorry No. 2, where it was placed in position as the inner tyre on the off-side rear wheel, as indicated on the card by the letters I.O.R. Its mileage to that date still remains at 8,765.
" Its life proceeded uneventfully from that date until July 10, when it was deemed advisable to repair a cut in the cover. During that period lorry No. 2 had covered 8,059 miles, so that this tyre had run a total of 16,824 miles. It was removed from the inner off-side rear, wheel, repaired and replaced as a spare wheel on the same lorry, No. 2. All that information is set down on the fourth line of the card, as well as a note of the expenditure of 8s. 4d. on repairing the cut in the cover.
" In a few weeks, that is, on August 3, this tyre, as recorded on the fifth line of the card, was removed from its position as the spare on lorry No. 2 and fitted as the outside tyre on the near-side rear wheel (0.N.R.). Its mileage still remains, of course, at 16,824.
" It continued`to occupy that position until October 11, having covered a further 3,232 miles, reaching a total of 20,056 miles. It was then decided that it should be retreaded at a cost of £3 5s. 13d. Having been dealt with in this way it was fitted as a spare tyre on lorry No. 3. All that information is duly set out on the sixth line of the card.
" In another week, however, it was again brought into service. The card record states that on October 18, 1941, it was removed from the position as spare on lorry No. 3 and fitted to the near-side front wheel (N.F.) of lorry No. 4. The mileage remains at 20,056. On that vehicle it covered a mileage of 9,229, having a singularly uneventful career, inasmuch as there is no further record of its removal or repair. Then,
at a total mileage of 29,285, it was scrapped. The price received for it as scrap, 2s. 6d., is duly recorded on the card."
" That's all right," he said, "but I still don't see how I am going to get the information to enter on my big analysis sheet of the actual tyre expenditure for each vehicle. This tyre, according to these records, has been used on no fewer than four vehicles, How do I ascertain how much of that cost is to be debited to each? "
" All in good time," I answered. " I have not yet finished with the history of this tyre and when I have you will find that there is, on this card, all the information you need. It is first of all important to note that we have precise information as to the total cost of that tyre from start to finish.
" There is the initial expenditure of £7 10s., the cost of the puncture, 4s. 8d., the cost of repairing the cover, 8s. 4d., and the cost of retreading, £3 5s, 6d. The total expenditure is thus RI1 8s. 4d. Deduct the 2s. 6d. obtained for the scrap and we have the net cost of £11 5s. 10d. The cost per mile, which is calculated by dividing that total by the-rrilleage, 29,285, is 0.0925d.
How to Debit the Tyre Cost to Each Vehicle " Now, it is sufficiently accurate," I continued, "to debit each vehicle according to the mileage which the tyre ran on that particular vehicle, reckoning the cost at 9.092,5d, per mile.
" Thus, on lorry No. 5 the tyre ran 8,765 miles and that, at 0.0925d. per mile is £3 7s. 5d. That is the amount which you must enter on your big costs analysis sheet against lorry No. 5. '
Similarly, with vehicle No. 2, on which this same tyre has run 11,291 miles, so that the actual cost to be debited against that lorry is £4 6s. 10d.
" On lorry No. 3 it was carried as only a spare, so there is no debit on account of that vehicle and on lorry No. 4 it ran for 9,229 miles, the cost thus being £3 1 ls. 7d.
"Now are you satisfied? " I questioned.
"I don't think the figures are mathematically correct, but I do appreciate that they are probably sufficiently accurate for the purpose," he replied.
" Why do you think that the figures are not accurate? "
"Because vehicle No. S had the benefit of the tyre when it was new and ran 8,785 miles worth of new tyre. It , seems to me that vehicle No. 5 should be debited with a somewhat greater proportion of the cost than the other two vehicles."
"On the other hand," I answered, "it is probable that, when the tyre was new, it wore less -rapidly than when it was old, so that I might say, with equal truth, that vehicle' No. 5 should be debited with a less proportion of the cost than the other two. What have you to say to that?''
"It seems," he said, "that there is something to be said for both sides, so that it looks as though it would be impossible to be more nearly accurate in ascertaining the actual tyre cost than by this method. On the other hand, I am still a little worried about the amount of clerical work necessary."
" I don't thiolc you have.any justification for complaint on that score," I replied. " In this particular instance, in the course of rather more than a year and a half, eight entries are necessary. . that is an average of one entry every six weeks. With your thousand cards that means 160-odd entries per week, which might seem a lot in the case of a small fleet hut is not much when you bear in mind that you are keeping records of costs for a considerable
number of vehicles. S.T.R.