Town and Country Road Planning
6th November 1942
Page 25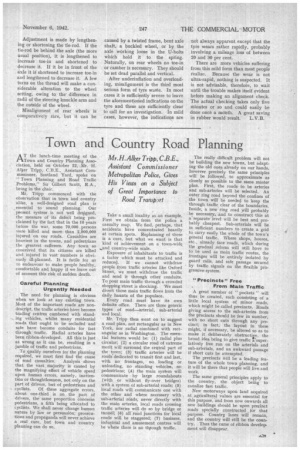 Page 25, 6th November 1942 —
Town and Country Road Planning
Close
Keywords :
Mr.H.Alker Tripp,C.B.E., Assisiant Commissioner Metropolitan Police, Gives His Views on a Stibject of Great Importance to
Road. Trarasp3rt AT the lunch-time meeting of the Town and Country Planning Association, held on October 22, Mr. H. Al.er Tripp, C.B.E., Assistant Commissioner, Scotland Yard, spoke on " Town Planning and Road Traffic Problems," Sir Gilbert Scott, R.A., being in the chair.
Mr. Tripp commenced with the observation that in town and country alike, a well-designed road plan is essential to sound planning. Our present system is not well de%ignecl, the measure of its defect being proclaimed by the fact that in the 10 years before the war, some 70,000 persons were killed and more than 2,000,000 injured on our roads. Casualties are heaviest in the towns, and pedestrians the greatest sufferers. Any town so conceived that its citizens are killed and injured in vast numbers is obviously ill-planned. It is futile for us to endeavour to make people healthy, comfortable and happy if we leave out of account this risk of sudden death.
Careful Planning Urgently Needed
The need for pia:min. is obvious when we look at any existing town. Most of the important roads are nondescript, the traffic arteries have become trading centres cumbered with standing vehicles, whilst many residential roads, that ought to be secluded and safe have become conduits for fast through traffic. Radial arteries have been ribbon-developed. All this is just as wrong as it can be, resulting in a jumble of traffic and pedestrians.
To qualify ourselves for the planning required, we must first find the cause of road casualties. Analysis shows that the vast majority is caused by the magnifying effect of vehicle speed upon human errors, namely, inattention or thoughtlessness, not only on the part of drivers, but of pedestrians and cyclists. Of these aggregate errors, about one-third is on the ,part of drivers, the same proportion concerns pedestrians, a fifth being allocated to cyclists. We shall never change human nature by law or persuasion; prosecutions and propaganda will never achieve a real cure, but town and country planning can do so. Take a small locality as an example. First we obtain from the police a casualty map. We find, perhaps, that accidents have concentrated heavily at certain spots. Replanning of these is a cure, but what we want is that kind of achievement on a town-wide ",and country-wide scale.
Exposure of inhabitants to traffic is a factor which must be attacked and reduced. If we cannot withdraw people from traffic arteries like Oxford Street, we must withdraw the traffic and send it through other conduits. To pour main traffic through a crowded shopping street is shocking. We must divert those main traffic flows from the daily haunts of the populace.
Every road must have its own definite office. There are three generic types of road--arterial, sub-arterial and local.
Mr. Tripp then went on to suggest a road plan, not rectangular as in New York, nor radial combined with rectangular as in Washington. The essential features would be: (1) radial plus circular; (2) a circular road of extreme merit will surround the central part of the town; (3) traffic arteries will be roads' dedicated to transit first and last, with no frontages, no loading or unloading, no standing vehicles, no pedestrians; (,4) the main system will communicate by large roundabouts (with or without fly-over bridges) with a system of sub-arterial. roads; (5) local roads will communicate one with the other and where necessary with sub-arterial roads, never directly with the main arteries, local roads crossing traffic arteries will do so by bridge or tunnel; (6) all road junctions for local roads will be staggered; (7) business, industrial and amusement centres will be Aere there is no through traffic.
The really difficult problem will not be building the new towns, but adapting the old one already on our hands, however precisely the same principles will be followed, to approximate as closely as possible to the same master plan. First, the roads to be arteries and sub-arteries will be selected. An outer ring road beyond the confines of the town will be needed to keep the through traffic clear of the boundaries. Inside, a new ring road will probably be necessary, and to construct this at a' separate level will be best and probably cheapest. Sub-arterials will be in sufficient numbers to create a grid to carry easily the whole of the town's general traffic. Where shops, houses, etc., already face roads, which during the gradual reform will still have to to be used as main traffic routes, the frontages will be entirely isolated by guard rails, and safe passage secured by traffic signals on the flexible progressive system.
"Precincts" Free From Main Traffic A great number of "pockets " will thus be created, each consisting of a little local system of minor roads, which might be called precincts. Roads giving access to the sub-arteries from the precincts should be few in number, with no short cuts through any precinct; in fact, the layout in these might, if necessary, be altered so as to make it deliberately obstructixe, the broad idea being to give traffic esuperlatively free run on the arterials and sub-arterials, and an awkward passage if short cuts be attempted.
The precincts Will be a leading feature of the whole town planning, and it will be there that people will live and work.
The same general principles apply to the country, the object being to canalize fast traffic.
New motonvays upon land acquired at agricultural values are essential for this purpose, and from now onwards all new buildings should be upon precinct roads specially constructed .,for that purpose. Country lanes will remain, and the country will still be the country. Thus the curse of ribbon development will disappear.