One Hears
6th November 1942
Page 17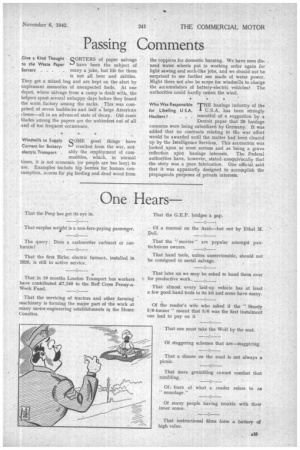 Page 17, 6th November 1942 —
One Hears
Close
That the Peep has got its eye in.
That surplus weight is a non-fare-paying passenger.
The query : Does a carburetter carburet or carburate ?
That the first Birlec electric furnace, installed in 1926, is still in active service.
That in 10 months London Transport bus workers have contributed £7,240 to the Red Cross Penny-aWeek Fund.
That the servicing of tractors and other farming machinery is forming the major part of the work at many motor-engineering establishments in the Home Counties. That the G.E.P. bridges a gap.
Of a manual on the Arab—but not by Ethel M. Dell.
That the 't movies'' are popular amongst pantechnicon owners.
That hand tools, unless unserviceable, should not be consigned to metal salvage.
That later on we may be asked to hand them over for productive work.
That almost every laid-up vehicle has at least a few good hand tools in its kit and some have many.
Of the reader's wife who asked if the "Sturdy 5/6-tonner " meant that 5/6 was the first instalment one had to pay on it That one must take the Wolf by the seat. Of staggering schemes that are—staggering.
That a dinner on the road is not always a picnic. 0 That mere grumbling cannot combat that rumbling. 0 Of. fears of what a reader refers to as " smaulage."
Of many people having trouble with their inner zones.
That instructional films form a battery of high value.