A NEW AIR COMPRESSOR.
6th November 1923
Page 8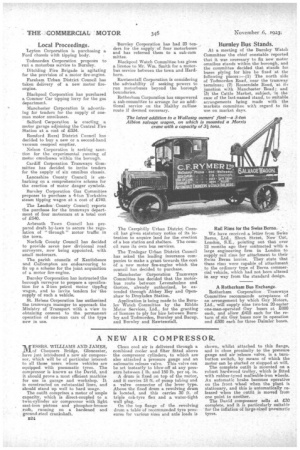 Page 8, 6th November 1923 —
A NEW AIR COMPRESSOR.
Close
,TESSRS. WILLIAMS AND JAMES, .1.1i1of Chequers 'Bridge, Gloucester, have just introduced a new air compressor, which will be of particular interest to all those users whose vehicles are equipped with pneumatic tyres. The compressor is known as the David, and it should prove a most efficient machine for use in garage and workshop. It is constructed on substantial lines, and should stand up well to hard usage.
The outfit comprises a motor of ample capacity, which is direct-coupled to a twin-cylinder air compressor with light cast-iron pistons and phosphor-bronze rods, running on a hardened and • ground-steel crankshaft. B24 Clean cool air is delivered through a combined cooler and filter fitted above the compressor cylinders, to which are also attached a pressure gauge and an automatic release valve. This valve can be set instantly to blow-off at any pressure between 1 lb. and 150 lb. per sq. in.
A drum is fixed on top of the motor, and it carries tEl ft, of pomp tubing and a valve connector of the lever type. Above the fixed drum a revolving drum is located, and this carries 30 ft. of triple cab-tyre flex and a water-tight wall plug. On the top flange cif the revolving dram a table of recommended tyre pressures for various sizes and axle loads is shown, whilst attached to this flange, mid in close proximity to the pressure gauge and air *release valve, is a turnbutton switch, by means of which the motor can be started or stopped atwill.
The complete outfit is mounted On a robust hardwood trolley, which is fitted with rubber-tyred malleable-iron wheels. An automatic brake becomes operative on the front wheel when the plant is stationary, and this is automatically released when the outfit is moved from one point to another. The David compressor setts at VO complete, and it is particularly suitable for the inflation of large-sized pneumatic tyres.