ONE HEARS
6th November 1923
Page 3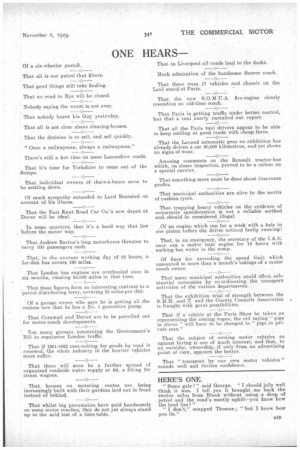 Page 3, 6th November 1923 —
ONE HEARS
Close
Of a six-wheeler putsch. • That all is not petrol that filters.
That good things still take finding.
That no road -to Rye will be closed.
Nobody saying the worst is not over. That nobody burnt his Guy yesterday.
That all is not clear about clearing-houses.
That the decision is to sell, and sell quickly.
" Once a railwayman, always a railwayman."
There's still a hot time on some Lancashire roads.
That it's time for Yorkshire to come out of the damps.
That individual owners of chars-h-banes seem to be settling down.
Of much sympathy extended to Lord Bearsted on account of his illness.
That the East Kent Road Car Co.'s new depot at Dover will be ideal.
In some quarters, that it's a hard way that lies before the motor way.
That Andrew Barton's long motorbuses threaten to carry 100 passengers each.
That, in the average working day of 16 hours, a London bus covers 160 miles.
That London bus engines are overhauled once in six months, running 24,000 miles in that time.
. That these figures form an interesting contrast to a petrol distributing lorry, covering 35 miles per day.
Of a garage owner who says he is getting all the custom now that he has a No. 1 guarantee pump.
That Cornwall and Devon are to be parcelled out for motor-coach developments.
Too many guesses concerning the Government's Bill to regularize London traffic.
That if 1921-1922 rate-cutting for goods by road is renewed, the whole ,industry in the heavier vehicles must suffer.
That there will soon be a further spread of organized roadside water supply at 9d. a filling for steam wagons.
That houses on motoring routes are being increasingly built with their gardens laid out in front instead of behind.
That whilst big pneumatics have paid handsomely on some motor coaches, they do not yet always stand up to the acid test of a time-table. That in Liverpool all roads lead to the docks. Much admiration of the handsome Saurer coach.
That there were 17 vehicles and chassis on the Latil stand at Paris.
That the new S.O.M.U.A. fire-engine closely resembles an old-time coach.
That Paris is getting traffic under better control, but that a taxi nearly curtailed our report That all the Paris taxi drivers appear to be able to keep smiling at good trade with cheap fares.
That the Lavaud automatic gear on exhibition has already driven a car 20,000 kilometres, and yet shows no signs of wear.
Amusing comments on the Renault tractor-bus which, on closer inspection, proved to be a railcar on a special carrier.
That something more must be done about insurance profits.
That municipal municipal authorities are alive to the merits of cushion tyres.
That trapping heavy vehicles on the evidence of motorcycle speedometers is not a reliable method and .should be considered illegal.
,Of an engine which ran for a week with a hole in one piston before the driver, noticed faulty running!
That, in an emergency, the secretary of the I.A.E. once ran a motor boat engine for 10 hours with nothing but water in the sump.
Of fines for exceeding the speed limit which amounted to more than a month's takings of a motor coach owner, That many municipal authorities could effect substantial economies by co-ordinating the transport activities of the various departments.
That the exhibition trial of strength between the S.M.M. and T. and the County Ceuncils Association is fraught with great possibilities.
That if a vehicle at the Paris Show be taken as representing the coming vogue, the old saying " pigs in clover " will have to be changed to " pigs in private cars."
That the subject of owning motor vehicles as against hiring is one of much interest, and that, to an outsider, ownership, if only from an advertising point of view, appears the better.
That " transport by our own motor vehicles" sounds well and invites confidence.