ONE HEARS
6th March 1923
Page 3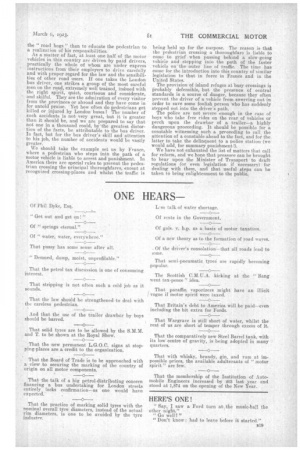 Page 3, 6th March 1923 —
ONE HEARS
Close
Of Phil Dyke, Esq.
" Get out and get on! "
Of " springs eternal."
Of " water, water, everywhere."
That pussy has some sense after all.
" Derimed, damp, moist, unprofitable."
That the petrol tax discussion is one of consuming interest.
That stripping is not often such a cold job as it sounds.
That. the law should be strengthened to deal with the careless pedestrian.
And that the use of the trailer drawbar by boys should be barred.
That solid tyres are to be allowed by the S.M.M. and T. to be shown at the Royal Show.
That the new permanent L.G.O.C. signs at stopping-places are a credit to the organization.
That the Board of Trade is to be approached with a view to securing the marking of the country of origin on all motor components.
That the talk of a big petrol-distributing concern financing a bus undertaking for London streets entirely lacks confirmation—as one would have expected.
That the practice of marking solid tyres with the nominal overall tyre diameters, instead of the actual rim diameters, is one to be avoided by the tyre industry. I.z,ss talk of water shortage. Of rents in the Government.
Of gals. v. h.p. as a basis of motor taxation.
Of a new theory as to the formation of road waves.
. Of the driver's consolatioP—that all roads lead to The Scottish C.M.U.A. kicking at the "Bang went tax-pence" idea.
That paraffin vaporizers might have an illicit vogue if motor spirit were taxed.
That Britain's debt to America will be paid—even including the bit extra for Fords.
That Wargrave is still short of water, whilst the rest of us are short of temper through excess of it.
That the comparatively new Steel Barrel tank, with its lowcentre of gravity, is being adopted in many quarters.
That with whisky, brandy, gin. and rum at impossible prices, the available adulterants of " motor spirit " are few.
That the membership of the Institution of Automobile Engineers increased by 203 last year and stood at 1,874 on the opening of the New Year.