PASSENGER TRAVEL NEWS.
6th March 1923
Page 18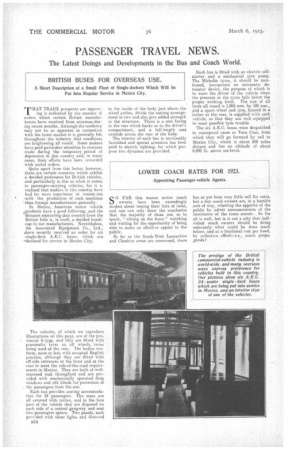 Page 18, 6th March 1923 —
PASSENGER TRAVEL NEWS.
Close
The Latest Doings and Developments in the Bus and Coach World.
BRITISH BUSES FOR OVERSEAS USE.
A Short Description of a Small Fleet ot Single-deckers Which Will be Put Into Regular Service in Mexico City.
THAT TRADE prospects are improving is indicated by the number of orders which certain British manufacturers have received from overseas:during recent months. Although the tendency may not be so apparent in connection with the home market it. is generally felt throughout the industry that conditions are brightening all round. Some makers have paid particular attention to overseas trade during the temporary period of depression in this country and, in many cases, their efforts have been rewarded with useful orders.
Quite apart from this factor, however, there are certain countries which exhibit a decided preference for British vehicles, and particularly is this so when it comes to passenger-carrying vehicles, for it is realized that makers in this country have had far more experience in connee..ion
• .with the production of such machines than foreign manufacturers generally. In Mexico, American motor vehicle iproducts have a good following, and the distance separating that country from the British Isles is, in itself, a decided handicap to our manufacturers. Nevertheless, the Associated Equipment Co., Ltd., ,have recently received an order for six single-deck A.E.C. buses, which are 'destined for service in Mexico City.
The vehicles, of which we reproduce illustrations on this pace, are of the provincial S-typc, and they are fitted with pneumatic tyres on all wheels, twins being used at the rear. The bodies conform, more or less, with accepted English practice, although they are fitted with off-side entrances at the front and at the rear to meet the rule-of-the-road requirements in Mexico. They are built of wellseasoned teak throughout and are provided with mechanically operated drop windows and silk blinds for protection of the passengers from the sun.
Each bus provides seating accommodation for 34 passengers. The seats are all covered with rattan, and in the fore part of the vehicle they are disposed on each side of a central gangway and seat two passengers apiece. Two panels, each provided with three lights and disnosed
u34
in the inside of the body just above the wheel arches, divide the seating arrangement in two and also give added strength to the structure. There is a seat facing to the rear which backs on to the driver's compartment, and a full-length seat. extends across the rear of the body. The interior ofeach bus is serviceably furnished and special attention has been paid to electric lighting, for which purpose two dynamos are provided.
Each bus is fitted with an electric selfstarter and a Mechanical tyre pump. The Michelin tyres, it should be mentioned, incorporate an automatic detonator device, the purpose of which is to warn the driver of the vehicle when the pressure in the tyres falls below the proper working limit. The size of all tyres all round is 1,085 mm. by 185 mm., and a spare wheel and tyre, housed in a locker at the rear, is supplied with each vehicle, so that they are well equipped to meet possible tyre trouble.
The six A.E.C. buses were despatched in waterproof eases to Vera Cruz, from which they will go forward by rail to Mexico City, which is about 500 miles distant, and has an altitude of about 6,000 ft. above sea-level.