THE MOTOR TAXATION INQUIRY.
6th March 1923
Page 11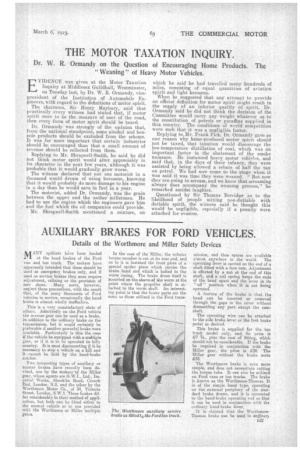 Page 11, 6th March 1923 —
THE MOTOR TAXATION INQUIRY.
Close
Keywords :
Petroleum Products
,
Chemistry
,
Soft Matter
,
Matter
,
Liquid Fuels
,
Benzole
,
Coal
,
Kerosene
,
Eugene Ormandy
,
Gasoline
,
Business / Finance
Dr. W. R. Ormandy on the Question of Encouraging Home Products. The " Weaning " of Heavy Motor Vehicles.
EVIDENCE was given at the Motor Taxation Inquiry at Middlesex Guildhall, Westminster, on Tuesday last, by Dr. W. R. Ormandy, vicepresident of the Institution of Automobile Engineers, with regard to the definitions of motor spirit.
The chairman, Sir Henry Maybury, said that practically every witness had stated that, if motor spirit were to be the measure of user of the road, then every form of motor spirit should be taxed.
Dr. Ormandy was strongly of the opinion that, from the national standpoint, some alcohol and benzole products should be excluded from the scheme. it was far more important that certain industries should be encouraged than that a small amount of revenue should be collected from them.
Replying to Mr. Shrapnell-Smith, he said he did not think motor spirit would alter appreciably in its character in the next few years, • although it was probable that it would gradually grow worse. The witness declared that not one motorist in a thousand would dream of using kerosene, knowing that it would probably do more damage to his engine in a day than he would save in fuel in a year.
The motorist, added Dr. Ormandy, was the grain between the upper and the nether millstones. He had to use the engine which the engineers gave him / and the fuel which the oil companies could provide. Mr. Shrapnell-Smith mentioned a mixture, on which he said he had travelled many hundreds of miles, consisting of equal quantities of aviation spirit and light kerosene. When he suggested that any attempt to provide an official definition for motor spirit might result in the supply of an inferior quality of spirit, Dr. Ormandy said he did not think the decision of the Committee would carry any weight whatever as to the constitution of petrols or paraffins supplied in this country. The conditions of world competition were such that it was a negligible factor. Replying to.11r. Frank Pick, Dr. Ormandy gave as one reason why home-produced motor spirit, should not be taxed, that taxation would discourage the low-temperature distillation of coal, which was an important factor in the abatement of the smoke nuisance. He instanced heavy motor ve.hieles, and said that, in the days of their infancy, they were assisted by being allowed a rebate of half the tax on petrol. We had now come to the stage when it was said it was time they were weaned. " But now they are going to scream, and we know that screaming always does accompany the weaning process," he remarked amidst laughter.
Questioned by Sir Thomas Berridgeas to the likelihood of people mixing non-dutiable with dutiable spirit, the witness said he thought this would be negligible, especially if a penalty were attached for evasion.