RECENT AND IMMINENT LEGISLATION
6th June 1996
Page 43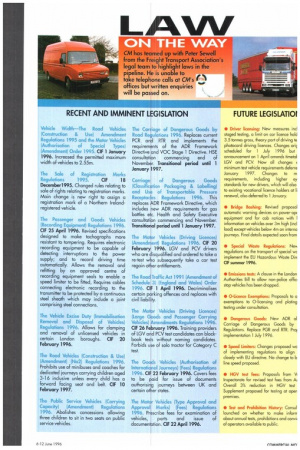 Page 43, 6th June 1996 —
RECENT AND IMMINENT LEGISLATION
Close
Vehicle Width—The Road Vehicles (Construction & Use) Amendment Regulations 1995 and the Motor Vehicles (Authorisation of Special Types) (Amendment) Order 1995. CIF 1 January 1996. Increased the permitted maximum width of vehicles to 2.55m.
The Sale of Registration Mark Regulations 1995. CIF 18 December1995. Changed rules relating to sale of rights relating to registration marks. Main change is new right to assign a registration mark of a Northern Irelandregistered vehicle.
The Passenger and Goods Vehicles
(Recordi, .nt) Regulations 1996. CIF 25 April 1996. Revised specifications designed to make tachographs more resistant to tampering. Requires electronic recording equipment to be capable of detecting interruptions to the power supply; and to record driving time automatically. Allows the removal and refitting by an approved centre of recording equipment seals to enable a speed limiter to be fitted, Requires cables connecting electronic recording to the transmitter to be protected by a continuous steel sheath which may include a joint comprising steel connections.
The Vehicle Excise Duty (Immobilisation Removal and Disposal of Vehicles) Regulations 1996. Allows for clamping and removal of unlicensed vehicles in certain London boroughs. CIF 20 February 1996.
The Road Vehicles (Construction & Use) (Amendment) (No2) Regulations 1996. Prohibits use of minibuses and coaches for dedicated journeys carrying children aged 3-16 inclusive unless every child has a forward facing seat and belt. CIF 10 February 1997.
The Public Service Vehicles (Carrying Capacity) (Amendment) Regulations 1996. Abolishes concessions allowing three children to sit in two seats on public service vehicles. The Carriage of Dangerous Goods by Road Regulations 1996 Replaces current PCR and RTR and implements the requirements of the ADR Framework Directive and VOC Stage 1 Directive. HSE consultatior commencing end of November Transitional period until 1 January 1997.
Carriage of Dangerous Goads (Classification Packaging & Labelling) and Use of Transportable Pressure Receptacles Regulations 1996. This replaces ADR Framework Directive, which includes new ADR requirements for gas bottles etc. Health and Safety Executive consultation commencing end November. Transitional period until 1 January 1997.
The Motor Vehicles (Driving Licences) A-, .iclment) Regulations 1996. CIF 20 February 1996. LGV and PCV drivers who are disqualified and ordered to take a re-test who subsequently take a car test regain other entitlements.
The Road Traffic Act 1991 (Amendment of Schedule 3! (England and Wales) Order 1996. CIF 1 April 1996. Decriminalises certain parking offences and replaces with civil liability The Motor Vehicles (Driving Licences) (Large Goods and Passenger Carrying Vehicles) Amendments Regulations 1996. CIF 26 February 1996. Training providers of LGV and PCV test candidates can blockbook tests without naming candidates. Forbids use of solo tractor for Category C test.
The Goads Vehicles (Authorisation of International Jo, ,eys) (Fees) Regulations 1996. CIF 22 February 1996. Covers fees to be paid for issue of documents authorising journeys between UK and certain other states.
The Motor Vehicles (Type Approval and Approval M3rks) (Fees) Regulations 1996. Prescribe fees for examination of vehicles, parts and issue of documentation. CIF 22 April 1996.