A N.E.R. Gear-driven Rail Coach.
6th June 1912
Page 4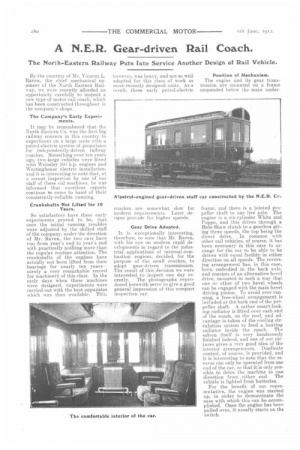 Page 4, 6th June 1912 —
A N.E.R. Gear-driven Rail Coach.
Close
The North-Eastern Railway Puts Into Service Another Design of Rail Vehicle.
By the courtesy of Mr. Vincent L. Raven, the chief mechanical engmeer of the North Eastern Railway, we were recently afforded an opportunity carefully to inspect a new type of motor rail coach, which has been constructed throughout in the company's shops.
The Company's Early Experi ments.
It may be remembered that the North-Eastern Co. was the first big railway concern in this country to experiment on a large scale with a petrol-electric system of propulsion for independently-driven railway coaches. Something over ten years ago, two 4arge vehicles were fitted with Wolseley 100 h.p. engines and Westinghouse electric installation, and it is interesting to note that, at a recent inspection by one of our staff of these old machines, be was informed that excellent reports continue hi come to hand of their consistently-reliable running.
Crankshafts Not Lifted for 10 Years.
So satisfactory have these early experiments proved to be, that once the initial running troubles were adjusted by the skilled staff of the company, under the direction of Mr. Raven, the two cars have run from year's end to year's end with practically nothing more than the regular routine attention. The crankshafts of the engines have actually not been lifted from their bearings for nearly ten years-surely a very remarkable record for machinery of this class. In the early days when these machines were designed, experiments were carried out with the best apparatus which was then available. This,
however, was heavy, and not so well adapted for this class of work as more-recently designed units. As a result, these early petrol-electric coaches are somewhat slow for modern requirements. Later designs provide for higher speeds.
Gear Drive Adopted.
It is exceptionally interesting, therefore, to note that Mr. Raven, with his eye on modern rapid developments in regard to the industrial applications of internal-combustion engines, decided, for the purpose of the small coaches, to adopt gear-driven transmission. The result of this decision we were interested to inspect one day re
cently, The photographs reproduced herewith serve to give a good general impression of this compact inspection car.
Position of Mechanism.
The engine and its gear transmission are mounted on a frame suspended below the main under
frame, and there is a jointed propeller shaft to one live axle. The engine is a six-cylinder White and Poppe, and this drives through a Hele-Shaw clutch to a. gearbox giving three speeds, the top being the direct drive. In common with other rail vehicles, of course, it has been necessary in this case to arrange for the car to be able to be driven with equal facility in either direction on all speeds. The reversing arrangement has, in this case, been embodied in the back axle. and consists of an alternative bevel drive, mounted in such a way that one or other of two bevel wheels can be engaged with the main bevel driving pinion. To avoid over-running, a free-wheel arrangement is included at the back end of the propeller shaft. A rather smart-looking radiator is fitted over each end of the coach, on the roof, and advantage is taken of the cooling circulation system to feed a heating radiator inside the coach. The saloon itself is very handsomely finished indeed, and one of our oietures gives a very good idea of the interior arrangements. Duplicate control, of course, is provided, and it is interesting to note that the reverse can only be operated from one end of the car, so that it is only possible to drive the machine in one direction from either end The vehicle is lighted from batteries.
For the benefit of our representative, the engine was started up, in order to demonstrate the ease with which this can be accomplished. Once the engine has been pulled over, it usually starts on the switch.