The Purchase Department.
6th January 1916
Page 19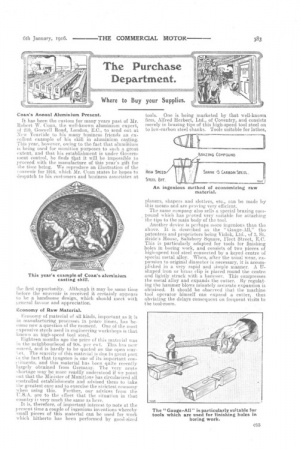 Page 19, 6th January 1916 —
The Purchase Department.
Close
Where to Buy your Supplies.
Coan's Annual Aluminium Present.
It has been the custom for many years past of Mr. Robert W. Coan, the well-known aluminium expert, of 219, Goswell Road, London, E.C., to send out at New Yeartide to his many business friends an excellent example of his skill in aluminium casting. This year, however, owing to the fact that aluminium is being used for munition purposes to such a great extent, and that his establishment is under Government control, he finds that it will be impossible to proceed with the manufacture of this year's gift for the tune being. We reproduce an illustration of the ouvenir for 1916, which Mr. Coan states he hopes to despatch to his customers and business associates at the first opportunity. Although it may be sonic time hefore the souvenir is received it certainly appears to be a handsome design, which should meet with general favour and appreciation.
Economy of Raw Material.
Economy of material of all kinds, important as it is in manufacturing processes in peace times, has become now a question of the moment. One of the most expensive steels used in engineering workshops is that known as high-speed tool steel.
Eighteen months ago the price of this material was in the neighbourhood of 90s. per cwt. This has now soared, and is hardly to be quoted on the open mar1; et. The scarcity of this material is due in great part to the fact that tungsten is one of its important eon:-tituents, and this material has been quite recently largely obtained from Germany. The very acute shortage may be more readily understood if we point out that the Minister of Munitions has circularized all controlled establishments and advised them to take the greatest care and to exercise the strictest economy when using this. Further, our advices from the "U.S.A. are to the effect that the situation in that country very much the same as here.
. It is, therefore, of. important interest :to note at the present time a couple of ingenious inventions whereby small pieces of this material can be used for work which hitherto has been performed by good-sized tools. One is being marketed by that well-known firm, Alfred Herbert, Ltd., of Coventry, and consists merely in brazing tips of this high-speed tool steel on to low-carbon steel shanks. Tools suitable for lathes, planers, shapers and slotters, etc.. can be made by this means and are proving very efficient.
The same company also sells a special brazing cootpound which has proved very suitable for attaching the tips to the main body of the tool.
Another device is perhaps more ingenious than the
above. It is described as the " tho patentees and proprietors being Vislok, Ltd., of 3, St. Bride's House, Salisbury Square, Fleet Street, E.C. This is particularly adapted for tools for finishing holes in boring work and .consists of two pieces of high-speed tool steel connected by a keyed centre of special metal alloy. "When, after the usual wear, expansion to original .diameter is .necessary, it is accomplished in a very rapid and simple manner. A ITshaped iron or brass clip is placed round the centre and lightly struck with a hammer. This compresses the metal alloy and expands the cutter. By regalating the hammer blows minutely accurate expansion is obtained. It should be observed that the "Machine tool operator himself can expand a cutter" thus obviating the delays consequent on frequent visits to the tool-room.