Answers to Queries.
6th January 1916
Page 18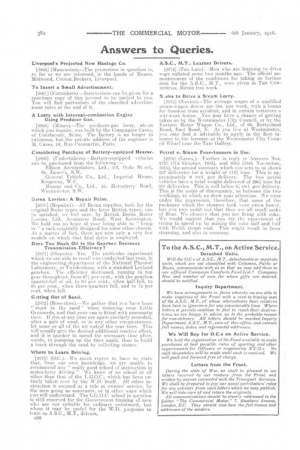 Page 18, 6th January 1916 —
Answers to Queries.
Close
Liverpool's Projected New Haulage Co.
[2866] (Mancunian).—The promotion in question is, so far as we are informed, in the hands of Messrs. Midwood, Cotton Brokers, Liverpool.
To Insert a Small Advertisement.
[2867] (Furnishers).—Instructions can be given for a specimen copy of this journal to be mailed to you. You will find particulars of the classified advertisement rates at the end of it.
A Lorry with Internal-combustion Engine Using •Producer Gas.
[2868] (Mines).—The producer-gas lorry, about which you inquire, was built by the Compagnie Cases, of Courbevoie, Seine. The factory is no longer in existence, hut the private address of the engineer is M. Cases, 10, Rue Caumartin, Paris.
Considering Purchase of Battery-equipped Hearse.
[2869] (Undertakers).—Battery-equipped vehicles can be purchased from the following :—
Edison Accumulators, Ltd., 2-3, Duke Sti-eet, St. James's. S.W.
General Vehicle Co., Ltd., Imperial House, Kingsway, W. C. Mossa,y and Co., Ltd., 45, Horseferry Road, Westminster, S.W.
L3zrna Lorries: A Repair Point.
[2870] (Ropairer).—All Berna supplies, both for the original Swiss types and the later British types. can he satisfied, we feel sure, by British Berna Motor Lorries, Ltd., Avonmore Road, West Kensington. We hold out no hope of your being able to " bring a rack originally designed for some other chassis. As a matter of fact, there are now only a very few models on which that final drive is employed.
Does Too Much Oil in the Gearbox Decrease Transmission Efficiency?
[2871] (Uispute).---Yes. The particular experiment which we are able to recall was conducted last year, in the engineering department of the National Physical Laboratory, at Twickenham, with a standard Leyland gearbox. The efficiency decreased, running in top
gear throughout, from per cent., with the gearbox quarter-full of oil, to 94 per cent., when half-full, to titi per cent., when three-quarters full, and to 74 per cent, when full.
Gatting Out of Sand.
[2872] (Ross-shire).—We gather that yeu have been " stuck in the sand " when motoring near Little Gruinards, and that, your van is fitted with pneumatic tires. If you at any time are again similarly stranded, after a gale of wind, or in any other circumstances, let some or all of the air outkof the rear tires. This will usually give the desired additional tractive effort, and it is quicker to spend the necessary time afterwards, in pumping up the tires again, than to build a track through the sand by collecting stones.
Where to Learn Driving.
[2873] (0.C.).--We much regret to have to state that, from -our own knowledge, We are -unable to recommend any " really good school of instruction in motor-lorry driving." We know of no school at all other than that of the L.G.O.C., which has been entirely taken over by the W.D. itself. All other instruction is secured as a rule in owners' service, by the men going as assistants, or in other ways which you will understand. The L.G,O.C. school in question is still reserved for the Government training of men who are not suitable for ordinary enlistment, but whom it may be useful for the W.D. purposes to train as A.S.C., MT., drivers.
652 A.S.C., M.T., Learner Drivers.
[2874] (Too Late).—Men who are learning to drive wive enlisted some two months ago. The official announcement of the conditions for taking on further men for the A.S.C., M.T., were given in TEE COMMERCIAL MOTOR last. week.
S:eks to Drive a Steam Lorry.
[2875] (Novice).—The average wages of a qualified steam-wagon driver are 358. per week, with a. bonus for freedom from accident, and in certain instances a war-work bonus. You may Inzve a chance of getting taken on by the Westminster City Council, or by the Eastern Motor Wagon Co., Ltd., of 66, Buttesland Road, East Road, N. As you live at Westminster, you may find it advisable to apply in the first instance to the foreman at the Westminster City Council Wharf near the Tate Gallery.
Petrol v. Steam Four.tonners in Use.
[2876] (Lancs.).-Further in reply re Answers Nos. 2767 (7th October, 1915), and 2805 (18th November, 1915), the second summary which you sent to us shows 257 deliveries for a weight of Mil tons. This is approximately 9 ewt. per delivery. The two petrol vehicles have a total weight delivered of 2961, tons for 937 deliveries. This is well below 6?i cwt. per delivery. This is the point of discrepancy, as between the two workings, to which we drew your attention. We were under the impression, therefore, that some of the packages which the steamer took were extra heavy, but you now point out that they are all .small sacks. of flour. We observe that you are firing with coke. We would suggest that you try the experiment of trying to speed up by mixing the coke half and half with Welsh steam -coal. This might result in freer steaming, and also in economy.