Positive about testing?
6th February 2014
Page 9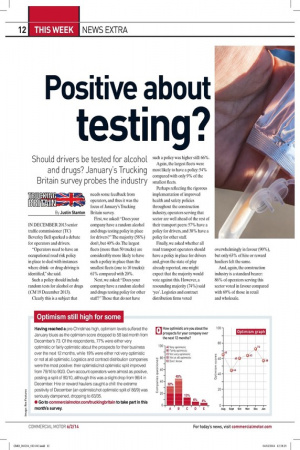 Page 10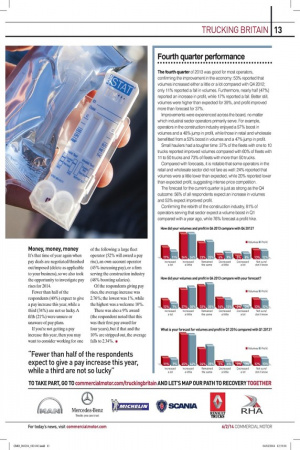 Page 9, 6th February 2014 —
Positive about testing?
Close
Should drivers be tested for alcohol and drugs? January's Trucking Britain survey probes the industry
IN DECEMBER 2013 senior traffic commissioner (TC) Beverley Bell sparked a debate for operators and drivers.
"Operators need to have an occupational road risk policy in place to deal with instances where drinkor drug-driving is identified," she said.
Such a policy should include random tests for alcohol or drugs (CM19 December 2013). Clearly this is a subject that
needs some feedback from operators, and thus it was the focus of January's Trucking Britain survey.
First, we asked: "Does your company have a random alcohol and drugs testing policy in place for drivers?" The majority (58%) don't, but 40% do. The largest fleets (more than 50 trucks) are considerably more likely to have such a policy in place than the smallest fleets (one to 10 trucks): 61% compared with 20%. Next, we asked: "Does your company have a random alcohol and drugs testing policy for other staff?" Those that do not have
such a policy was higher still: 66%.
Again, the largest fleets were most likely to have a policy: 54% compared with only 9% of the smallest fleets.
Perhaps reflecting the rigorous implementation of improved health and safety policies throughout the construction industry, operators serving that sector are well ahead of the rest of their transport peers: 57% have a policy for drivers, and 38% have a policy for other staff. Finally, we asked whether all road transport operators should have a policy in place for drivers and, given the state of play already reported, one might expect that the majority would vote against this. However, a resounding majority (74%) said 'yes'. Logistics and contract distribution firms voted
overwhelmingly in favour (90%), but only 63% of hire or reward hauliers felt the same.
And, again, the construction industry is a standard bearer: 86% of operators serving this sector voted in favour compared with 69% of those in retail and wholesale.
Money, money, money
It's that time of year again when pay deals are negotiated/thrashed out/imposed (delete as applicable to your business), so we also took the opportunity to investigate pay rises for 2014. Fewer than half of the
respondents (40%) expect to give a pay increase this year, while a third (34%) are not so lucky. A fifth (21%) were unsure or unaware of pay plans. If you're not getting a pay increase this year, then you may want to consider working for one
of the following: a large fleet operator (52% will award a pay rise), an own-account operator (45% increasing pay), or a firm serving the construction industry (48% boosting salaries).
Of the respondents giving pay rises, the average increase was 2.76%; the lowest was 1%, while the highest was a welcome 10%. There was also a 9% award (the respondent noted that this was their first pay award for four years), but if that and the 10% are stripped out, the average falls to 2.34%. •
Fourth quarter performance
The fourth quarter of 2013 was good for most operators, confirming the improvement in the economy: 53% reported that volumes increased either a little or a lot compared with 042012; only 11% reported a fall in volumes. Furthermore, nearly half (47%) reported an increase in profit, while 17% reported a fall. Better still, volumes were higher than expected for 39%, and profit improved more than forecast for 37%.
Improvements were experienced across the board, no matter which industrial sector operators primarily serve. For example, operators in the construction industry enjoyed a 57% boost in volumes and a 48% jump in profit, while those in retail and wholesale benefitted from a 53% boost in volumes and a 47% jump in profit.
Small hauliers had a tougher time: 37% of the fleets with one to 10 trucks reported improved volumes compared with 60% of fleets with 11 to 50 trucks and 73% of fleets with more than 50 trucks.
Compared with forecasts, it is notable that some operators in the retail and wholesale sector did not fare as well: 24% reported that volumes were a little lower than expected, while 20% reported lower than expected profit, suggesting intense price competition.
The forecast for the current quarter is just as strong as the 04 outcome: 56% of all respondents expect an increase in volumes and 53% expect improved profit.
Confirming the rebirth of the construction industry, 81% of operators serving that sector expect a volume boost in 01 compared with a year ago, while 76% forecast a profit hike.