What's this then, a new Scania?
6th February 2014
Page 4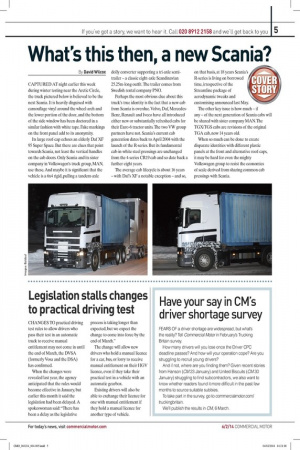 Page 4, 6th February 2014 —
What's this then, a new Scania?
Close
By David Wilcox
CAPTURED AT night earlier this week during winter testing near the Arctic Circle, the truck pictured below is believed to be the next Scania. It is heavily disguised with camouflage vinyl around the wheel-arch and the lower portion of the door, and the bottom of the side window has been doctored in a similar fashion with white tape. Fake markings on the front panel add to its anonymity. Its large roof-cap echoes an elderly Daf XF 95 Super Space. But there are clues that point towards Scania, not least the vertical handles on the cab doors. Only Scania and its sister company in Volkswagen's truck group, MAN, use these. And maybe it is significant that the vehicle is a 6x4 rigid, pulling a tandem-axle
dolly converter supporting a tri-axle semitrailer — a classic eight-axle Scandinavian 25.25m-long outfit. The trailer comes from Swedish rental company PNO.
Perhaps the most obvious clue about this truck's true identity is the fact that a new cab from Scania is overdue. Volvo, Daf, MercedesBenz, Renault and Iveco have all introduced either new or substantially refreshed cabs for their Euro-6 tractor units. The two VW group partners have not. Scania's current cab generation dates back to April 2004 with the launch of the R-series. But its fundamental cab-in-white steel pressings are unchanged from the 4-series CR19 cab and so date back a further eight years. The average cab lifecycle is about 16 years — with Daf's XF a notable exception — and so, on that basis, at 18 years Scania's R-series is living on borrowed time, irrespective of the Streamline package of aerodynamic tweaks and
customising announced last May.
The other key issue is how much — if any — of the next generation of Scania cabs will be shared with sister company MAN. The TGX/TGS cabs are revisions of the original TGA cab, now 14 years old.
When so much can be done to create disparate identities with different plastic panels at the front and alternative roof-caps, it may be hard for even the mighty Volkswagen group to resist the economies of scale derived from sharing common cab pressings with Scania.