PM's pledge to cut red tape welcomed
6th February 2014
Page 14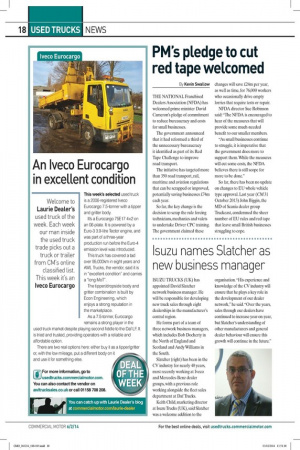 Page 14, 6th February 2014 —
PM's pledge to cut red tape welcomed
Close
By Kevin Swallow
THE NATIONAL Franchised Dealers Association (NFDA) has welcomed prime minister David Cameron's pledge of commitment to reduce bureaucracy and costs for small businesses.
The government announced that it had reformed a third of the unnecessary bureaucracy it identified as part of its Red Tape Challenge to improve road transport.
The initiative has targeted more than 350 road transport, rail, maritime and aviation regulations that can be scrapped or improved, potentially saving businesses £74m each year. So far, the key change is the decision to scrap the rule forcing technicians, mechanics and valets to undertake Driver CPC training. The government claimed these
changes will save £24m per year, as well as time, for 76,000 workers who occasionally drive empty lorries that require tests or repair.
NFDA director Sue Robinson said: "The NFDA is encouraged to hear of the measures that will provide some much-needed benefit to our smaller members.
"As small businesses continue to struggle, it is imperative that the government does more to support them. While the measures will cut some costs, the NFDA believes there is still scope for more to be done."
So far, there has been no update on changes to EU whole vehicle type approval. Last year (CM 31 October 2013) John Biggin, the MD of Scania dealer group Truckeast, condemned the sheer number of EU rules and red tape that leave small British businesses struggling to cope.