SCAMMELLS TO KEEP CAIRO • CLEAN
6th February 1948
Page 28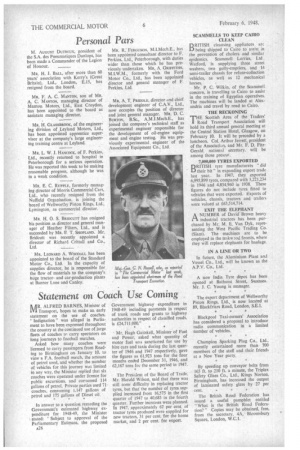 Page 28, 6th February 1948 —
SCAMMELLS TO KEEP CAIRO • CLEAN
Close
BRITISH cleansing appliances aro. being shipped to Cairo to assist in the prevention of cholera and similar
epidemics. Scammell Lorries, Ltd . Watford, is supplying three street washers, two gully-emptiers, and 14 semi-trailer chassis for refuse-collection vehicles, as well as 12 mechanical horses.
Mr. P. C. Wilk in, of the Scammell concern, is travelling to Cairo to assist in the training of Egyptian operatives. The machines will be landed at Alexandria and travel by road to Cairo.
THE RECKONING
THE Scottish Area of the Traders' Road Transport Association will hold its third annual general meeting at the Central Station Hotel, Glasgow, on February 10. It will be preceded by a luncheon. Col. Arthur Jerrett, president of the Association, and Mr. F. D. FitzGerald, national secretary. will be among those preseoi.
7,000,009 TYRES EXPORTED DRITISH tyre manufacturers "did
their bit" in expanding export trade last year.. In 1947, they exported 6,995,899 tyres, compared with 5,221,234 in 1946 and 4,854,960 in 1938. These figures do not include tyres fitted to vehicles that were exported. Exports of vehicles, chassis, tractors and trailers were valued at £63,514,714.
EXIT THE ELEPHANT
A NUMBER of David' Brown heavy I-1 industrial tractors has been purchased by Mr. M. E. Van Dyk, representing the West Pacific Trading Co. (Siam). The machines are to be employed in the teakwood forests, where they will replace elephants for haulage.
IN A LINE OR TWO
In future, the Aluminium Plant an..1 Vessel Co., Ltd., will be known as the A.P.V. Co., Ltd.
A new India Tyre depot has been opened at Bathurst Street, Swansea. Mr. J. C. Young is manager.
The export department of Wellworthy Piston Rings, Ltd. is now located at 89, Blackfriars Road, London, S.E.1.
Blackpool Taxi-owners' Association has considered a proposal to introduce radio communication in a limited 'number of vehicles.
Champion Sparking Plug Co., Ltd., recently entertained more than 700 members of the staff and their friends at a New Year party.
By speeding up conveyor belts from 165 ft. to 210 ft. a minute, the Triplex Safety Glass Co., Ltd., Kings Norton, Birmingham, has increased the output of laminated safety glass by 27 per cent. * The British Road Federation has issued a useful pamphlet entitled " What is the British Road Federation?" Copies may be obtained, free, from the secretary, 4A,' Bloomsbury Square, London, W.C.1.