Safety Factors in Parking
6th February 1948
Page 24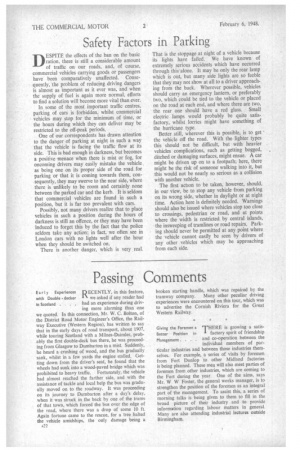 Page 24, 6th February 1948 —
Safety Factors in Parking
Close
DESPITE the effects of the ban on the basic ration, there is still a considerable amount of traffic on our roads, and, of course, commercial vehicles carrying goods or passengers have been comparatively unaffected. Consequently, the problem of reducing driving dangers is almost as important as it ever was, and when the supply of fuel is again more normal, efforts to find a solution will become more vital than ever.
In some of the most important traffic centres. parking of cars is forbidden, whilst commercial vehicles may stop for the minimum of time, or the hours during which they can deliver may be restricted to the off-peak periods.
One of our correspondents has drawn attention to the danger of parking at night in such a way that the vehicle is facing the traffic flow at its side. This is bad enough in darkness, but becomes a positive menace when there is mist or fog, for oncoming drivers may easily mistake the vehicle. as being one on its proper side of the road for parking or that it is coming towards them, consequently, they may swerve to the near side, where there is unlikely to be room and certainly none between the parked car and the kerb. It is seldom that commercial vehicles are found in such a position, but it is far too prevalent with cars.
Possibly, not many drivers realize that to place vehicles in such a position during the hours of darkness is still an offence, or they may have been induced to forget this by the fact that the police seldom take any action; in fact, we often see in London cars with no lights well after the hour when they should be switched on.
There is another danger, which is very real. That is the stoppage at night of a vehicle because its lights have failed. We have known of extremely serious accidents which have occurred through this alone. It may be only the rear lamp which is out, but many side lights are so feeble that they may not show at all to a driver approaching from the back. Wherever possible, vehicles should carry an emergency lantern, or preferably two, which could be tied to the vehicle or placed on the road at each end, and where there are two, the rear one should have a red glass. Small electric lamps would probably be quite satisfactory, whilst lorries might have something of the hurricane type.
Better still, wherever this is possible, is to get the vehicle off the road. With the lighter types this should not be difficult, but with heavier vehicles complications, such as getting bogged, , ditched or damaging surfaces, might ensue. A car might be driven up on to a footpath; here, there might be the risk of someone walking into it, but this would not be nearly so serious as a collision with another vehicle.
The first action to be taken, however, should, in our view, be to stop any vehicle from parking on its wrong side, whether in daylight or at night time. Action here is definitely needed. Warnings should also be issued where vehicles stop too close to crossings, pedestrian or road, and at points where the width is restricted by central islands, the insweeping of tramlines or road repairs. Parking should never be permitted at any point where the vehicle cannot easily be seen by drivers of any other vehicles which may be approaching from each side.