• B.T.C.Asked for Test Facilities
6th August 1954
Page 60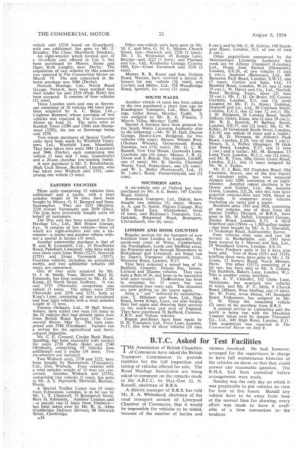 Page 60, 6th August 1954 —
• B.T.C.Asked for Test Facilities
Close
THE Association of British Chambers I of Commerce have asked the British Transport Commission to provide facilities for the full inspection and testing of vehicles offered for sale, The Road Haulage Association are being asked to comment on the remarks made to the A.B.C.C. by Maj.-Gen G. N. Russell, chairman of B.R.S.
A district manager of B.R.S. has told Mr. E. A. Whitehead, chairman of the road transport section of Liverpool Chamber of Commerce, that it would be impossible for vehicles to be tested, because of the number of lorries and viewers involved. He had, however, arranged for the supervisors in charge to have full maintenance histories of the vehicles on show, so that they could answer any reasonable question. The R.H.A. had been consulted before arrangements were made.
Sunday was the only day on which it was practicable to put vehicles on view for four or five hours. Should any vehicle have to be away from base at the normal time for showing, every effort was made to have it available at a time convenient to,the tenderer.