BETWEEN
6th August 1954
Page 46
Page 47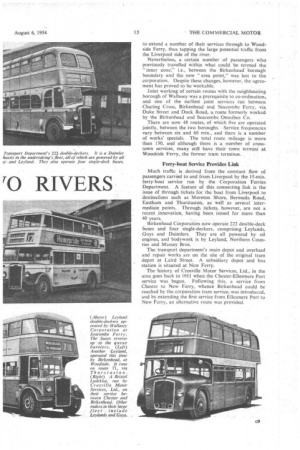 Page 48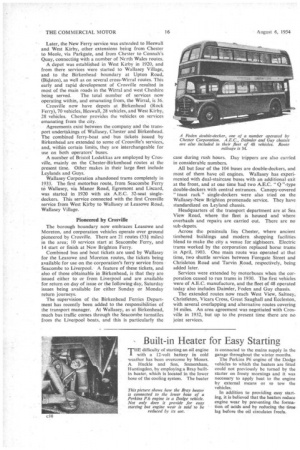 Page 46, 6th August 1954 —
BETWEEN
Close
'0 RIVERS
THE westerly arm of Cheshire between the Mersey and Dee which we know as the Wirral Peninsula has historic connections with public passenger transport. It was at Birkenhead that, 90 years ago, the horsed-tram was born.
For a district which was comparatively sparsely populated 80 years ago, the railways had made great strides, and it will be 100 years in October this year since the Birkenhead-Chester railway (first opened in 1840) was extended to Monk's Ferry, whence a service of ferry boats across the Mersey gave easy access to Liverpool.
Another railway was built along the coast from Birkenhead docks to Hoylake as early as 1866, and extended to West Kirby in 1878. The regular operation of horsed-tramways in Birkenhead dates back to 1873, the Birkenhead Tramways Company taking over the assets in 1879.
Among other developments in rail communication which occurred well before the turn of the century was the inauguration of the •Mersey Railways which, since electrification in 1903, have provided a more intensive service of passenger trains than any other line outside the London network.
Through Services to Liverpool The electrification. of the "Wirral Lines ". to New Brighton and West Kirby in 1938, .enabling through• passenger servicesto run to Liverpool, had a profound effect on residential traffic along these routes.
These events, although not apparently directly connected with road transport developments, greatly influenced the -opening up of the area and helped to spread the •population farther afield, thus creating conditions whick-were later to aid the progress of the early motorbus services: Birkenhead Corporation acquired the ,town!s horsedtramway undertaking before :1900, and in February, 1901, the first electric trams appeared in the borough.
In the following year the District Connell'.
of Wallasey took over the company-owned horsed-trams in-their area and decided to -electrify the system. Birkenhead abandoned trams in layout of motorbuses in 1932.
It was at Birkenhead that the first regular motorbus service in that part of Cheshire was started more than 48 years ago. This pioneer scheme was sponsored by the Mersey Railway Company to connect trains at Birkenhead Central Station with the growing residential districts of Oxton and Claughton.
Even by today's standards, the six-minute service throughout the day was intense—the frequency corresponding with that of the electric rail service to Liverpool.
Four years later, the then Crosville Motor Company, Ltd., introduced their first bus service between Chester and Ellesmere Port.
Birkenhead Starts First Bus Service
The growing need for transport within Birkenhead and the surrounding district was soon recognized by the corporation, who successfully sought powers to operate motorbuses in 1918. A start was made in 1919 by opening a route from Rock Ferry Pier, from which there was then a boat service to Liverpool, to Moreton, via Tranmere, Charing Cross, Birkenhead Park, Oxton and Bidston. A service to Upton, starting at Central Station, was the next to be introduced, and this was followed by one from Rock Ferry -to Port Sunlight, the garden village of Lever Brothers, 'Ltd. So successful were these ventures that the corporation decided to extend their influence further. Ambitious powers were sought to operate anywhere outside the borough, but Crosville contested their Bill in Parliament and it was rejected. A less ambitious Bill was approved, .and an agreement on routes and areas, including' a redivision of traffic, was reached with Crosville.
The .agreement permitted Birkenhead to run -as far as Thurstaston, I-leswall.andEastham, and-Crosville undertook -not to . pick-up and set down passengers between certain :defined "-boundary paints !! beyond the-actual . borough limits:Reciprocally, the company were enabled
to .extend a number of their services through to Woodside Ferry, thus tapping the large potential traffic from the Liverpool side of the river.
Nevertheless, a certain number of passengers who previously travelled within what could be termed the "inner zone'," i.e., between the Birkenhead borough boundary and the new "area point," was lost to the corporation. Despite these changes, however, the agreement has proved to be workable.
Joint working of certain routes with the neighbouring borough of Wallasey was a prerequisite to co-ordination, and one of the earliest joint services ran between Charing Cross, Birkenhead and Seacombe Ferry, via Duke Street and Dock Road, a. route formerly worked by the Birkenhead and Seacombe Omnibus Co. .
There are now 48 routes, of which five are operated jointly, between the two boroughs. • Service frequencies vary between six and 60 min., and there is a number of works' specials. The total route mileage is more than 130, and although there is a number of crosstown services, many still have their town termini at Woodside Ferry, the former tram terminus.
Ferry-boat Service Provides Link
Much traffic is derived from the constant flow of passengers carried to and from Liverpool by the 15-min. ferry-boat service run by the Corporation Ferries Department. A feature of this connecting link is the issue of through tickets for the boat from Liverpool to destinations such as Moreton Shore, Bermuda Road, Eastham and Thurstaston, as well as several intermediate points. Through tickets, however, are not a recent innovation, having been, issued for more than 40 years. .
Birkenhead Corporation now operate 222 double-deck buses and four single-deckers, comprising Leylands, Guys and Daimlers. They are all powered by oil engines, and bodywork is by Leyland, Northern Counties and Massey Bros.
The transport department's main depot and overhaul and repair works are on the site of the original tram depot at Laird Street. A subsidiary depot and bus station is situated at New Ferry.
The history of Crosville Motor Services, Ltd., in the area goes back to 1911 when the Chester-Ellesmere Port service •was begun. Following this, a service from Chester to New Ferry, whence Birkenhead could be reached by the corporation tram service, was introduced, and by extending the first service from Ellesmere Port to New Ferry, an alternative route was provided. Later, the New Ferry service was extended to Heswall and West Kirby, other extensions being from Chester to Meole, via Parkgate, and from Chester to Connah's Quay, connecting with a number of Ncrth Wales routes.
A depot was established in West Kirby in 1920, and from there services were started to Wallasey Village, and to the Birkenhead boundary at Upton Road, (Bidston), as well as on several cross-Wirral routes. This early and rapid development of Crosville resulted in most of the main roads in the Wirral and west Cheshire being served. The total number of services now operating within, and emanating from, the Wirral, is 36.
Crosville now have depots at Birkenhead (Rock Ferry), 70 vehicles, Heswall, 28 vehicles, and West Kirby, 28 vehicles. Chester provides the vehicles on services emanating from the city.
Agreements exist between the company and the transport undertakings of Wallasey, Chester and Birkenhead. The combined ferry-boat and . bus tickets issued by Birkenhead are extended to some of CrosviIle's services, and, within certain limits, they are interchangeable for use on both operators' buses.
A number of Bristol Lodekkas are employed by Crosville, mainly on the Chester-Birkenhead routes at the present time. Other makes in their large fleet include Leylands and Guys.
Wallasey Corporation abandoned trams completely in 1933. The first motorbus route, from Seacombe Ferry to Wallasey, via Manor Road, Egremont and Liscard, was started in 1920 with six A.E.C. 32-seat singledeckers. This service connected with the first Crosville service from West Kirby to Wallasey at Leasowe Road, Wallasey Village.
Pioneered by Crosville
The borough boundary now embraces Leasowe and Moreton, and corporation vehicles operate over ground pioneered by Crosville. There are 21 routes (53i miles) in the area; 10 services start at Seacombe Ferry, and 14 start or finish at New Brighton Ferry.
Combined bus and boat tickets are used by Wallasey for the Leasowe and Moreton routes, the tickets being available for use on the corporation's ferry service from Seacombe to Liverpool.A feature of these tickets, and also of those obtainable in Birkenhead, is that they are issued either to or from Liverpool and are available for return on day of issue or the following day, Saturday issues being available for either Sunday or Monday return journeys.
The supervision of the Birkenhead Ferries Department has recently been added to the responsibilities of the transport manager. At Wallasey, as at Birkenhead, much bus traffic comes through the Seacombe turnstiles from the Liverpool boats, and this is particularly the case during rush hours. Day trippers are also carried in considerable numbers.
All but four of the 104 buses are double-deckers, and most of them have oil engines. Wallasey has experimented with dual-staircase buses with an additional exit at the front, and at one time had two A.E.C. "Q "-type double-deckers with central entrances. Canopy-covered "toast rack" single-deckers were also tried on the Wallasey-New Brighton promenade service. They have standardized on Leyland chassis.
Headquarters of the transport department are at Sea View Road, where the fleet is housed and where overhauls and repairs are carried out. There are no sub-depots.
Across the peninsula lies Chester, where ancient timbered buildings and modern shopping facilities blend to make the city a venue for sightseers. Electric trams worked by the corporation replaced horse trams in April, 1903. One main route was operated at that time, two shuttle services between Foregate Street and Chrisleton Road and Tarvin Road, respectively, being added later.
Services were extended by motorbuses when the cor poration ceased to run trams in 1930. The first vehicles were of A.E.C. manufacture, and the fleet of 48 operated today also includes Daimler, Foden and Guy chassis.
The extended routes now reach West View, Saltney, Christleton, Vicars Cross, Great Saughall and Eccleston, with several overlapping and alternative routes covering 34 miles. An area agreement was negotiated with Crosvile in 1932, but up to the present time there are no joint services.