95% of "Heavies" Exceed Limit
6th August 1954
Page 41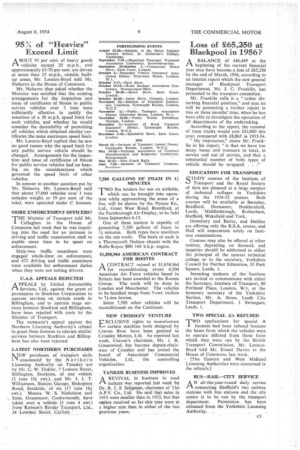 Page 41, 6th August 1954 —
95% of "Heavies" Exceed Limit
Close
ABOUT 95 per cent. of heavy goods vehicles exceed 20 m.p.h., and approximately 65-70 per cent. are driven at more than 25 mph., outside builtup areas, Mr. Lennox-Boyd told Mr. Nabarro in the House of Commons.
Mr. Nabarro then asked whether the Minister was satisfied that the existing arrangements for the inspection and issue of certificates of fitness to public service vehicles over 3 tons 'were sufficiently effective to justify the retention of a 30 m.p.h. speed limit for such vehicles, and whether he would consider the desirability of permitting all vehicles which obtained similar tertificates the same maximum speed limit.
Mr. Lennox-Boyd replied that he saw no good reason why the speed limit for any public service vehicle should he changed. Arrangements for the inspection and issue of certificates of fitness for public service vehicles had no bearing on the considerations which governed the speed limit of other vehicles, In answer to another question put by Mr. Nabarro, Mr. Lennox-Boyd said that about 57,000 vehicles over 3 tons unladen weight, or 59 per cent. of the total, were operated under C licences.