A ,, hauliers who deliver to supermarkets moan about waiting times,
6th April 1995
Page 36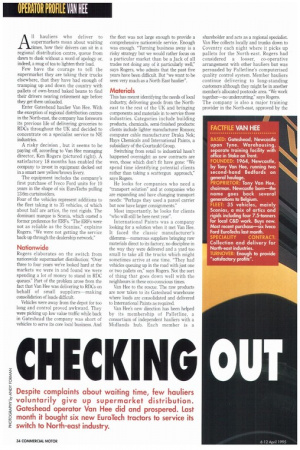 Page 37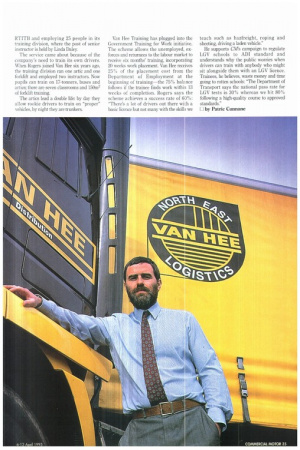 Page 36, 6th April 1995 —
A ,, hauliers who deliver to supermarkets moan about waiting times,
Close
how their drivers can sit in a regional distribution centre, queue from dawn to dusk without a word of apology or, indeed, a mug of tea to lighten their load.
Few have the courage to tell the supermarket they are taking their trucks elsewhere, that they have had enough of tramping up and down the country with pallets of own-brand baked beans to find their drivers nearing retirement age before they get them unloaded.
Enter Gateshead haulier Van Hee. With the exception of regional distribution centres in the North-east, the company has forsworn its previous life of delivering groceries to RDCs throughout the UK and decided to concentrate on a specialist service to NE industries.
A risky decision , but it seems to be paying off, according to Van Hee managing director, Ken Rogers (pictured right). A satisfactory 18 months has enabled the company to invest in equipment decked out in a smart new yellow/brown livery.
The equipment includes the company's first purchase of Iveco Ford units for 10 years in the shape of six EuroTechs pulling 13.6m curtainsiders.
Four of the vehicles represent additions to the fleet taking it to 35 vehicles, of which about half are artics, the rest rigids. The dominant marque is Scania, which ousted a former preference for ERFs. "The ERFs were not as reliable as the Scanias," explains Rogers. "We were not getting the service back-up through the dealership network."
Nationwide
Rogers elaborates on the switch from nationwide supermarket distribution: "Over three to four years we've looked hard at the markets we were in and found we were spending a lot of money to stand in RDC queues." Part of the problem arose from the fact that Van Hee was delivering to RDCs on behalf of small suppliers—making consolidation of loads difficult.
Vehicles were away from the depot for too long and control proved awkward. They were picking up low value traffic while back in Gateshead the company was short of vehicles to serve its core local business. And the fleet was not large enough to provide a comprehensive nationwide service. Enough was enough. "Turning business away is a risky strategy but we would rather focus on a particular market than be a Jack of all trades not doing any of it particularly well," says Rogers, who admits that the past five years have been difficult. But "we want to be seen very much as a North East haulier".
Materials
This has meant identifying the needs of local industry, delivering goods from the Northeast to the rest of the UK and bringing components and materials in to service those industries. Categories include building products, chemicals, semi-finished products: clients include lighter manufacturer Ronson; computer cable manufacturer Draka Nek; Hays Chemicals and International Paints, a subsidiary of the Courtauld Group.
Switching from retail to industrial hasn't happened overnight: as new contracts are won, those which don't fit have gone: "We spend time identifying potential clients rather than taking a scattergun approach," says Rogers.
He looks for companies who need a "transport solution" and at companies who are expanding and have changing transport needs: "Perhaps they used a parcel carrier but now have larger consignments."
Most importantly, he looks for clients "who will still be here next year".
International Paints was a company looking for a solution when it met Van Hee. It faced the classic manufacturer's dilemma—numerous suppliers bringing raw materials direct to its factory, no discipline in the way they were delivered and a yard too small to take all the trucks which might sometimes arrive at one time. "They had vehicles queuing up in the road with just one or two pallets on," says Rogers. Not the sort of thing that goes down well with the neighbours in these eco-conscious times, Van Hee to the rescue. The raw products are now taken to its Gateshead warehouse where loads are consolidated and delivered to International Paints as required.
Van Hee's new direction has been helped by its membership of Palletline, a consortium of independent hauliers with a Midlands hub. Each member is a shareholder and acts as a regional specialist. Van Hee collects locally and trunks down to Coventry each night where it picks up pallets for the North-east. Rogers had considered a looser, co-operative arrangement with other hauliers but was persuaded by Palletline's computerised quality control system. Member hauliers continue delivering to long-standing customers although they might be in another member's allocated postcode area. "We work together—no undercutting," says Rogers. The company is also a major training provider in the North-east, approved by the RT1TB and employing 25 people in its training division, where the post of senior instructor is held by Linda Daley.
The service came about because of the company's need to train its own drivers. When Rogers joined Van Hee six years ago, the training division ran one artic and one forklift and employed two instructors. Now pupils can train on 17-tonners, buses and artics; there are seven classrooms and 150rn2 of forklift training.
The artics lead a double life: by day they allow rookie drivers to train on "proper" vehicles, by night they are tunkers. Van Hee Training has plugged into the Government Training for Work initiative. The scheme allows the unemployed, exforces and returnees to the labour market to receive six months' training, incorporating 20 weeks work placement. Van Hee receives 25% of the placement cost from the Department of Employment at the beginning of training—the 75% balance follows if the trainee finds work within 13 weeks of completion. Rogers says the scheme achieves a success rate of 60%: "There's a lot of drivers out there with a basic licence but not many with the skills we teach such as hazfreight, roping and sheeting, driving a laden vehicle."
He supports CAI's campaign to regulate LGV schools to ADI standard and understands why the public worries when drivers can train with anybody who might sit alongside them with an LGV licence. Trainees, he believes, waste money and time going to rotten schools: "The Department of Transport says the national pass rate for LGV tests is 30% whereas we hit 80% following a high-quality course to approved standards."
U by Patric Cut-mane